As Jewelry Shopping Guide editors, we write about things that we love and we think you'll like too. We often have affiliate partnerships, and may generate some revenue from these links at no cost to you. 
From status symbol to playful accessory, a pearl necklace is a timeless jewelry piece that works for all occasions. Pearls might be known for its "ladylike" reputation, but modern jewelry designers have reimagined its classic look into something fashion-forward and unexpected.
Pearls today are no longer viewed as old-fashioned. Instead, they're among the most sought-after accessories. And while we tend to think of pearl necklaces or pendants as the only way to wear pearls, there are many creative options out there. 
We're in the midst of a pearl renaissance, and its modern interpretation feels creative and eccentric. There are more natural shapes, interesting metalwork, and pearls mixed with other stunning gemstones to give individuality to the accessory.
Whether you're into classic or unconventional designs, we've rounded up 15 of the most stylish pearl necklaces that will complete your fashion statement.
Pearl Necklace Designs
Modern Pearl Necklace
by Cake Candle Holder. Check Price Here.
The new wave of pearl jewelry is sleek and modern, and this necklace can take you from office to weekends with next to no effort. Suspended along the gold-plated stainless-steel wire, the pearls look structured and asymmetric, suiting a variety of occasions.
Minimalist Pearl Necklace
by Galavis Atelier. Check Price Here.
If you're a minimalist by heart, this pearl necklace is made for you. Clean lines, flat designs, and geometric shapes best describe minimalist jewelry. Set in a silver bezel, the flat pearl pendant makes it one-of-a-kind, adding a unique touch to your everyday outfits.
Pearl Cross Necklace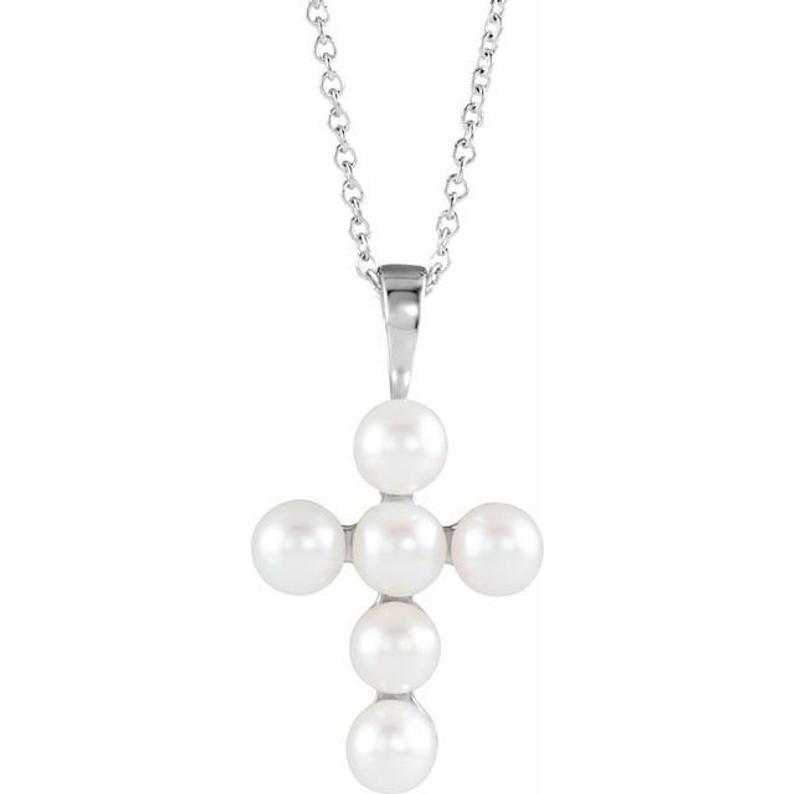 by Michigan Jewelry Co. Check Price Here.
Made of platinum, this pearl cross necklace makes a perfect milestone gift and a family heirloom. Who says pearls are only for fancy formal occasions? This luxury jewelry piece can dress up your casual jeans and daytime outfits. Whether you're religious or not, this is one that everyone can agree is gorgeous.
Teardrop Pearl Necklace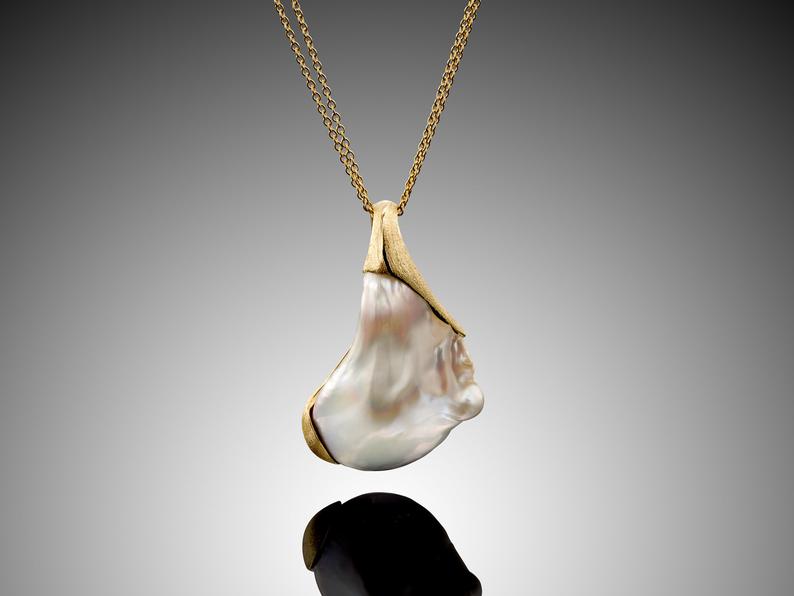 by Layani Fine Jewelry. Check Price Here.
If you want to embrace the natural beauty of the gem in its raw, organic form, think of this teardrop pearl necklace. Made of 18k yellow gold and set with a baroque pearl pendant, this necklace can be the effortless way to express your individuality and unique style.
Edgy Multistrand Pearl Necklace
by Mia Diva Style. Check Price Here.
Who says pearls can't be edgy and bold? Its silver clasp, in the form of the head of a predator, makes this multistrand pearl necklace unexpected and modern. It is something that will turn heads at parties and events.
Classic Pearl Necklace
by The Pearl Vogue. Check Price Here.
To add a touch of Grace Kelly into your look, go for a classic pearl necklace. Made of 18k gold, diamonds, and Akoya pearls, this jewelry piece will complete your classy and glamorous style perfect for weddings, dinner dates, and black-tie affairs. The pearl pendant makes it just a little different to regular strands.
Pearl and Diamond Necklace
by Remay London. Check Price Here.
Diamonds are a girl's best friend, so bring on the look together with pearls. Made of 18k white gold, the necklace comes with a detachable pendant comprised of orange diamonds and Japanese Akoya pearls. This jewelry piece allows you to play with your personal style, be it dressed up or down.
Pearl Chain Necklace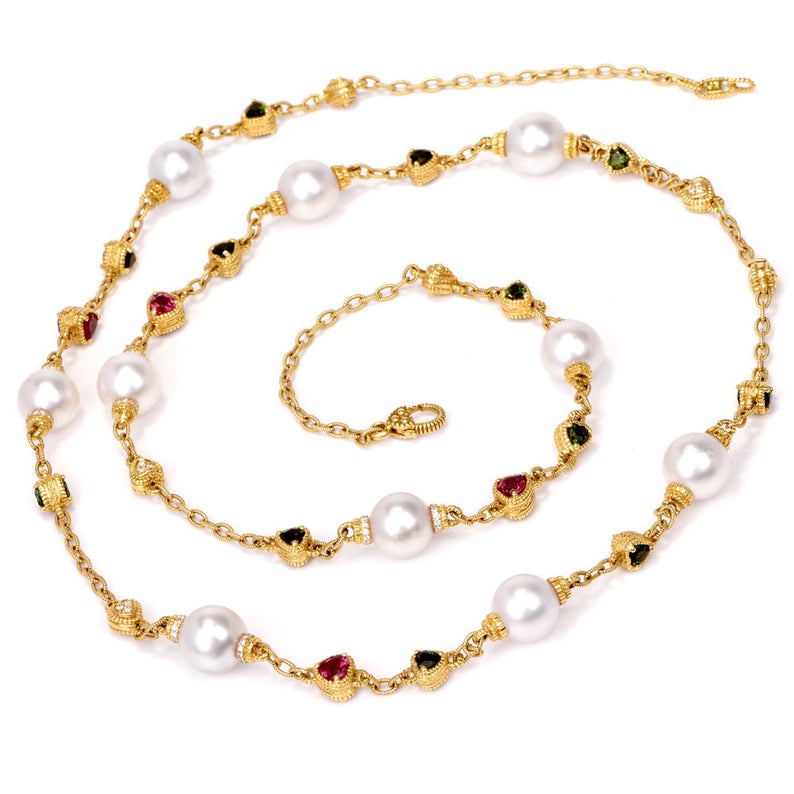 by Dover Jewelry. Check Price Here.
If you want to add a pop of color to your looks, think of a pearl necklace designed with colorful gems. Crafted in 18k yellow gold, the necklace is comprised with cultured pearls and tourmaline in colors of pink and green. The heart shaped stones and gold cable chain also make the jewelry piece ideal for layering.
Wheat Pearl Necklace
by Akoya Pearls. Check Price Here.
Add a dash of romance into your classic look with a wheat pearl necklace. The drop shaped and flat coin pearls are suspended in 14k yellow gold, giving a whimsy vibe to your style. This jewelry piece looks great with flowy sundresses, lace tops, and formal outfits.
Gatsby-Inspired Pearl Choker
by Reigning Jewels. Check Price Here.
Influenced by the styles of the Jazz Age, the necklace is comprised of strands of pearls and oval-cut aquamarine pendant set in platinum. The jewelry piece brings on the bold, bright attitudes of the "The Roaring Twenties," when fashion was all about glitz and glamour.
Art Deco Pearl Necklace
by So Perfect Jewelry. Check Price Here.
Characterized by clean lines, bold geometry, and symmetry, Art Deco still brings glamor to our modern times. Crafted in 18k white gold, the necklace features South Sea pearls and diamonds. It comes with a pair of drop earrings too, allowing you to relive the fashion of the time.
Edwardian Pearl Choker
by Filigree Jewelers. Check Price Here.
The jewelry designs in the Edwardian era were elaborate, feminine, and decorative. This choker necklace features old European cut diamonds, floral motif bar center, and seed pearls in platinum lattice. Its airy and lacy look will add sophistication and a touch of history to your modern-day wardrobe.
Victorian Pearl Necklace
by M. White Jewelry. Check Price Here.
The most influential era of antique jewelry, Victorian period favored pearls and cameos in necklaces. Crafted in antiqued gold tone brass, the necklace features Swarovski cream pearls and acrylic cameo that will add a romantic flair into your style.
Baroque Pearl Necklace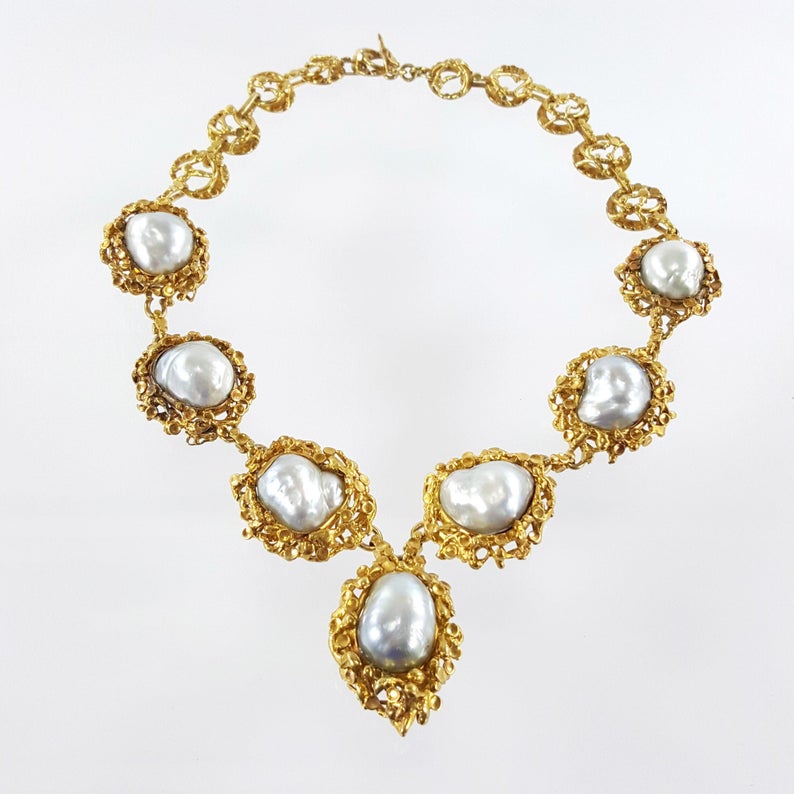 by Pearl Queen Jewelry. Check Price Here.
If you love the mythical and arabesque motifs of the Baroque era, think of this statement necklace. Made of 18k gold plated sterling silver, the necklace flaunts the beauty of irregular-shaped South Sea Pearls that will give a luxurious touch to any look.
Avant-Garde Pearl Necklace
by 193 Kings Road. Check Price Here.
The avant-garde movement started in the early 20th century, but its influences are still evident today. This avant-garde necklace breathes new life to a classic gem, giving you an extravagant and futuristic statement. Made from sterling silver and clusters of freshwater pearls and garnets, it makes the perfect piece to don during Fashion Weeks, allowing you to wear runway trends in real life. This necklace is more than just an accessory—it's a piece of art.
How to Choose the Right Pearl Necklace for You
If you're looking for investment jewelry, opt for saltwater pearls like Akoya and South Sea pearls that are more valuable than freshwater pearls. But for costume jewelry, consider imitation pearls. While they don't have the same look of real pearls, they are stunning when crafted into well-designed jewelry.
If you've always thought these classic gems are a little formal for your taste, think of modern, minimalist styles that can take you from work to play. Some were even designed with diamonds and precious metals to offset the traditional feel.
There are also baroque pearls, or irregular shaped pearls like coin pearls and teardrop pearls that give a unique touch to your looks. Regardless of your preference, you must opt for a necklace design that reflects your personality whether you're classic, casual, romantic, or trendy.