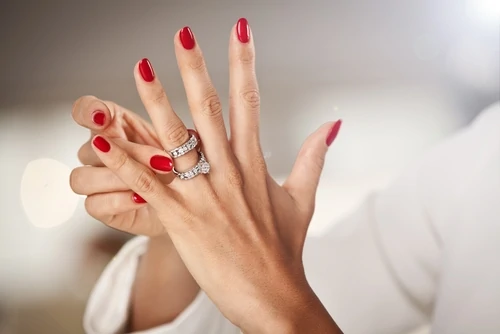 As Jewelry Shopping Guide editors, we write about things that we love and we think you'll like too. We often have affiliate partnerships, and may generate some revenue from these links at no cost to you.
The right size ring is supposed to slide onto your finger effortlessly but slightly resist when you want to take it off. If your ring is sliding up and down your finger too easily or it's incredibly difficult to remove, it's highly likely you'll have to resize it. It's usually the case when the ring is fresh out of a jewelry store. But also, your favorite ring can get too tight or too loose over time due to weight gain or loss, and other factors.
In this article, we'll explain the process of resizing a ring larger and smaller and show you some alternatives to changing your ring's size.
What Is the Perfect Ring Size?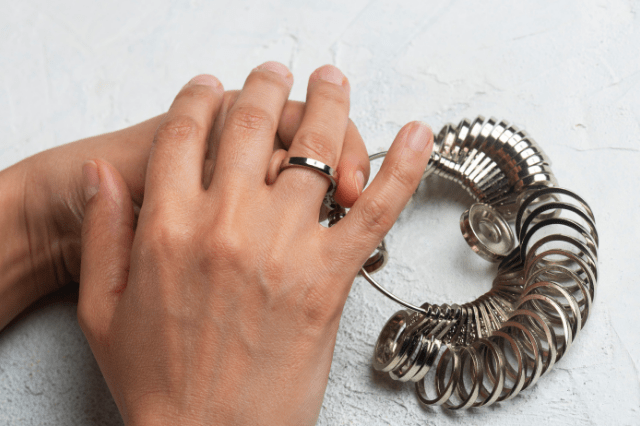 As we already mentioned above, a perfect-fit ring should slide on smoothly but give a little resistance when you try to take it off, so it doesn't fall off accidentally or catch on other objects.
As knuckles are the widest part of your finger, they should be your guide when determining a proper ring size. If the ring is easy to put on but needs a little pressure to get it over the knuckle and off, it's most likely a good fit.
However, if it gets stuck under your knuckle or slides and spins around your finger without any resistance, you'll probably have to adjust it to a larger or smaller size. Bear in mind that it should also be comfortable to wear, fitting snuggly around your finger but not squeezing too tight. Generally, rings can be adjusted two sizes up or down. Anything above that could put too much stress on the ring and potentially damage it.
With this in mind, we always recommend taking your ring to a professional jeweler you can trust if you want to resize it.
Tip: Before committing to resizing your poorly fitted ring and taking it to the jeweler's, you should test wear it for several days. As your finger shrinks and swells throughout the day, you may find that it's looser in the evening and tighter in the morning.
How to Resize a Ring Larger
Typically, resizing a ring to make it larger is a bit more complicated process than adjusting it to a smaller size. Jewelers might use different techniques to achieve this, depending on how large the ring needs to be.
Stretching – If a ring needs to be a half size larger, jewelers might try the stretching technique. It involves stretching the metal and extending the ring's band. However, we would strongly advise avoiding this method as it can weaken the ring's structure and distort its shape.
Adding – If you need your ring bigger than that, jewelers will enlarge the band's circumference by adding metal to it. They will snip the ring's band and add a piece of metal in between the cut ends. After soldering, cleaning, and polishing the surface, the ring will look and feel as good as new.
How to Resize a Ring Smaller
Making a ring smaller is generally easier than vice versa. It's always easier to resize a ring that's too big than it is to resize one that's too tight.
Removing – To make a ring smaller, a small piece of the ring's shank will be cut out. Jewelers will then form the ring's band back into a perfect circle and solder the two ends together. After cleaning and polishing, you won't be able to notice that the ring was sized down.
Remember to ask the jeweler to give you the cut-out piece of the metal back. Keep it safe in case you need your ring resized larger later in the future.
Ring Types That Can't Be Resized
Rings made of silver, gold or platinum, can always be resized without any issues. The simpler the ring's band, the easier the resizing will be.
However, there are certain ring styles and metals that limit how much the ring size can be adjusted or make the resizing entirely impossible.
Non-Resizable Ring Styles
1- Eternity Rings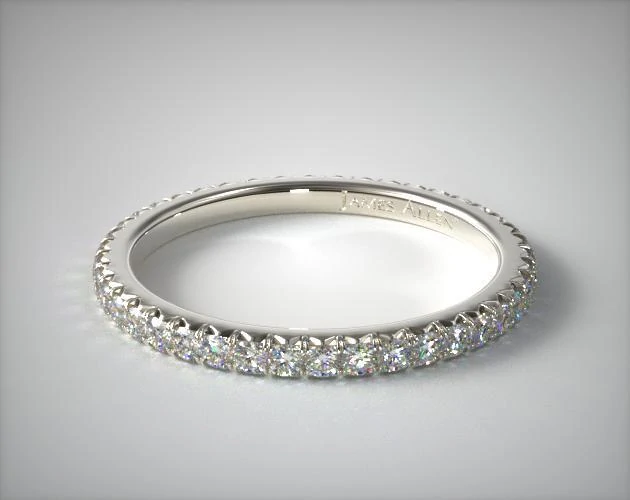 Rings that have gemstones set along the entire ring's band, such as eternity bands, usually can't be resized larger nor smaller. It's simply because these ring styles don't have enough exposed metal that jewelers can work with. If you're set on getting an eternity engagement ring for your future bride, you need to make sure you know her ring size. Alternatively, you can opt for a half-eternity, but even then, ensure that it can be resized prior to purchase.
2- Tension Rings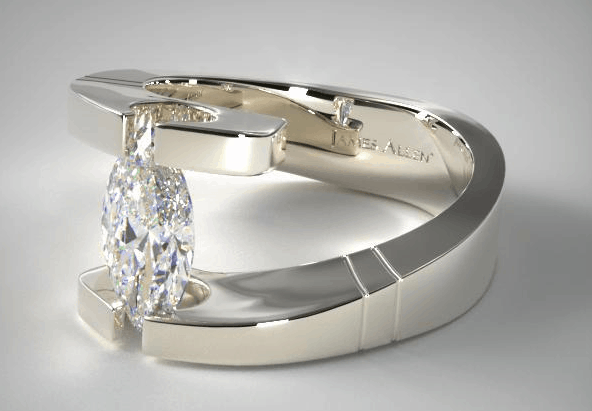 Adjusting the size of this type of ring setting is usually out of the question. In this setting, the diamond or other precious stone is held in place by tension or pressure created by the two ring's ends. No jeweler will ever accept resizing this ring style as they are usually custom-made to provide a perfect setting for a priceless gem and tempering with its size might lead to loosening it and potentially losing the stone.
3- Thin Bands
Delicate and thin bands are also hard to work with and can often get misshapen when resized. With these ring styles, the stretching method for enlarging is almost always impossible.
Metals That Are Hard to Resize
1- Rose Gold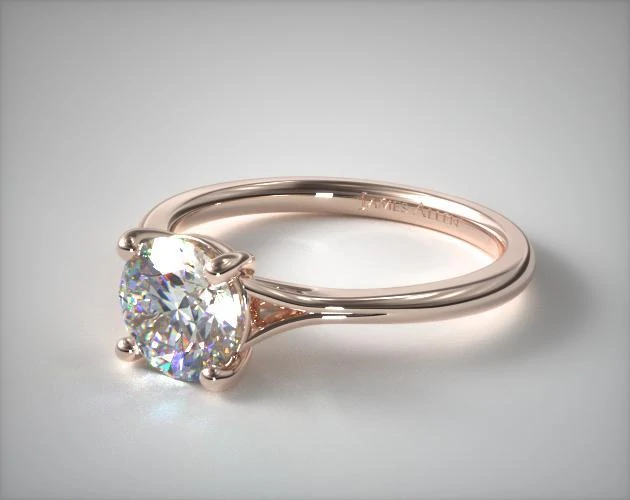 Jewelers often avoid resizing rose gold rings as they are extremely brittle and highly likely to crack under pressure or when exposed to stress. Besides, as there are many different rose gold alloys, it's tough to find its exact match when making the ring larger with additional metal.
2- Tungsten
Cutting and welding tungsten rings can also be very challenging. As the metal is exceptionally hard, it can easily break apart if cut. Also, since the melting point of tungsten is higher than most jewelers can achieve in their shops, welding this type of ring together usually can't be executed easily.
3- Titanium
While not impossible, you might find that majority of jewelers will refuse to resize titanium rings, as well. Like tungsten, titanium is also quite challenging to melt compared to other metals, such as silver or gold.
Alternatives to Ring Resizing
If you have a ring that's too small, you might not be able to get around resizing it. However, if your ring is too large and you can't resize it because of its style and material, or you simply don't want to, there are several alternatives that you can implore. Those are the following:
#1. Plastic Adjusters:
These DIY adjusters are an ideal temporary and affordable solution to reducing your ring size by one full size or one-half size. They are basically small plastic or silicone wedges, like this one, that you can attach to the bottom of the ring band. It's an excellent short-term solution for everybody with frequent finger size fluctuations that don't need their ring resized permanently.
#2. Sizing Beads: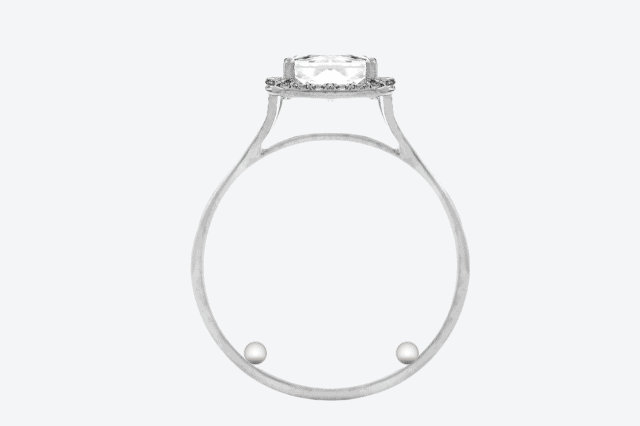 If you need to adjust your ring's size just slightly or stop it from spinning, you can ask your jeweler to solder two tiny metal beads or balls on the inside bottom part of your ring's band. This will keep your ring upright and give you the feel of a better-fitting ring without having to resize it. However, some people find the bead sizing uncomfortable. So, it would be a good idea to try it out with an example ring beforehand.
#3. Spring Insert:
If you have wider knuckles and need to make a ring smaller up to one full size, a spring insert might be an ideal option for you. It's a horseshoe-shaped metal strip that's attached on the inside bottom side of your ring, covering 3/4 of its band. This metal strip is flexible, flattening out as the ring slides over the knuckle, and bouncing back into place once the ring sits on your finger.
Spring inserts are much more comfortable than sizing beads, but it's a little bit more complicated for jewelers to execute. Nevertheless, it's still a fairly affordable alternative.
#4. Fold-Over Sizing Bar:
This is an excellent option if you need your ring resized more than one full size smaller. A fold-over sizing bar is a hinged U-shaped bar, with one end soldered to the ring's bottom. The other side has a latch, allowing you to open it when putting the ring on and click it back into place when wearing the ring.
This option is also excellent for people with bigger knuckles, as it allows you to slide the ring easily over the knuckles but still have it fit snuggly around the finger when wearing it.
#5. Finger Mate:
This is a permanent option that involves replacing the whole ring band. If the size of your ring is perfect, but you have difficulties putting it over your knuckles, this might be the best solution for you. This type of ring shank has three hinges that click open when putting the ring on and close and lock once you have your ring on, fitting securely on your finger.
If you opt for this solution, go to an experienced jeweler as this process is quite complicated to do and will cost more than the other four alternatives.
How Much Does Ring Resizing Cost?
When determining the cost of your ring resizing, there's no exact price list. It can cost anywhere between $50 and a couple of hundreds of dollars, depending on the amount of work and how complicated the resizing can get.
Typically, the overall cost will also be affected by the type of metal of your ring as well as its design:
Ring metals: For example, sterling silver and yellow gold rings are easy to resize, while platinum and white gold rings will require more work. White gold usually has rhodium coating that will need to be replated after resizing. Platinum will require some special tools, as its melting point is a bit higher. Therefore, you can expect to spend more on resizing platinum and white gold rings.
Ring design: When it comes to the ring design, it all comes down to whether it has gemstones or not. Of course, simple band rings will be easy to resize and, therefore, cost less. On the other hand, if your ring is set with one or more gemstones, the whole process will require much more work. To accommodate a new shape of a ring, the gems might have to be removed and then reset, resulting in a higher resizing price.
How to Choose the Right Size Ring
There are three simple, tried and tested ways to measure your ring size at home. Of course, you can always ask a professional jeweler to do this for you, but if you're too busy for that, you can always try out one of these DIY methods:
Method #1. Use string or floss.
Take a piece of string or floss, or any other similar item you can find in your home, wrap it around your ring finger's base, and mark the overlapping points with a pen. After that, line up the string with a ruler and measure the length between the two marked points in millimeters.
The standard half ring size is equal to 0.4 millimeters.
If your string measures, say, 14 millimeters, then your ring size is 3; 14.5 millimeters will match the ring size of 3.5, and so on. Of course, you should always consider your knuckles, and if they are more prominent, we would suggest always going half a size up.
Method #2. Use a ring you already own.
If you already have a ring that fits you perfectly, you can use it to measure your ring size. All you need to do is find an online true-to-life ring size chart, like this free one, print it out, and place your ring on provided circles until you find the one that perfectly matches your ring's inner circumference.
Method #3. Get a ring sizer.
For a guaranteed accuracy, you can order a ring sizer online and have your own measuring tool. There's a wide array of options you can find out there, made of various materials, such as metal, plastic, silicone, and others. No matter which one you opt for, they will all do the trick for a reasonably low price. Many jewelers offer free ring sizers, like this one, meaning this can be your best option.
To Wrap Up
Even though ring resizing is a standard procedure, it comes with its own share of risks. For this reason, we would strongly recommend knowing your ring size before buying the ring, especially if you're ordering it online and don't have a chance to try it out first. If you're getting an engagement ring for your fiancée, you can ask her friends and family about her ring size or trace one of her favorite rings on a true-to-size ring size chart.
If, however, resizing is the only way to go for you, always search for experienced and reputable jewelers. Most reputable jewelers, like James Allen, Whiteflash and Blue Nile will offer at least one free resizing. Also, try not to resize one ring multiple times as it'll weaken the metal over time and damage the ring.