If you have a jewelry collection, then you know how important it is to keep everything organized! What's worse than tangled necklaces or missing earrings when you're rushing to get dressed?
Organizing your jewelry not only saves you time but also protects your jewelry, prolonging their wearability.
There are so many jewelry organizers on the market that choosing the right one can get tricky. You not only have to consider the aesthetics of your chosen organizer, you also have to ensure that it is practical.
Let's look at what you need to consider before buying a jewelry organizer and then we'll take a look at the top 7 types of jewelry organizers that you can find on the market.
7 Types of Jewelry Organizers
The final main factor to consider is the type of jewelry organizer that you need to buy. Here are the most common types on the market:
1. Hanging Jewelry Organizer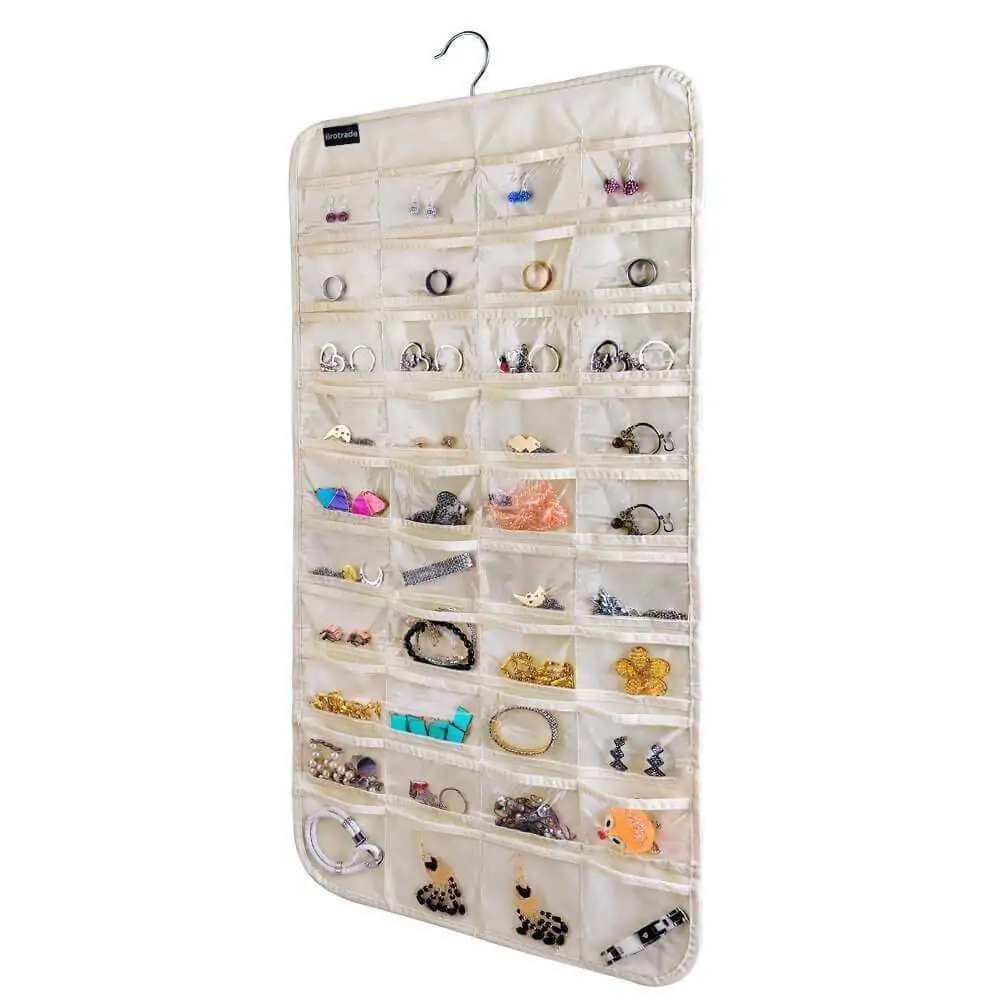 This is probably the most affordable type of jewelry organizer. They are practical and common-sense items, often without frills and furbelows. You can find them in plastic pockets. They hang on any hook or railing in your closet or behind the door and give you easy access to all your items. You can generally find one for less than $20.
Pros:
Simple and sensible design
You can easily see all your jewelry items
Each item has its own section, keeping it free from dust and scratches
Saves space and fits into your closet or behind your door. They often come double-sided
Very affordable
Cons:
May not be very durable
Looks cheap and doesn't have the gravitas of more sophisticated jewelry organizers
2. Over-the-door Jewelry Organizer
An over-the-door jewelry organizer works by having hooks that attach over the door (obviously!). You can find these in a range of styles. Some come with mirrors on the front, so it doubles as a dressing mirror and is a great space-saving option.
It is best to choose one that comes with a door as this ensures that your items are safe and sound without exposure to moisture or dust.
Pros:
Saves space and is great for small rooms
Large enough to accommodate almost any jewelry collection
Cons:
Looks like a piece of furniture
Not portable
Your door may not be in the most convenient location for a jewelry organizer
3. Travel Jewelry Organizer
These are mainly for when you travel however, for someone with few jewelry items, this can be a general jewelry organizer as well.
There are many varieties of travel jewelry organizers on the market, from small compartmental boxes to pack-and-roll the organizers.
Travel jewelry organizers are lightweight and designed to save space. However, they can be too small for some purposes so ensure that you check dimensions carefully before you buy.
Pros:
Saves space and portable
Holds a large amount of jewelry
Cons:
Not very sturdy
Great for travel but not great for daily use
4. Wall Mounted Jewelry Organizer
A wall-mount jewelry organizer can be placed in a convenient location in your room. Generally, these are similar to over-the-door organizers. In fact, most wall-mounts come with attachable hooks that turn the item into an over-the-door organizer.
Pros:
Fits on any wall that has a little spare space
Often large and spacious
Cons:
Requires screws and drilling to mount on the wall and therefore is not portable
The space beneath the organizer may be wasted
Can look like a boring piece of furniture
5. Jewelry Organizer Trays
These provide you a lot of flexibility. The best thing about jewelry organizer trays is that you can keep purchasing trays as required, and stack them one atop the other. As long as you purchase the same design and color, the trays will have a cohesive look.
Pros:
Each item is stored in its own compartment safely
You can add to your tray collection as required
Can be stored in drawers or on shelves
Cons:
The trays can tip over or fall
You don't have quick visual access to all items
6. Standing Jewelry Organizers (Jewelry Armoire)
Standing jewelry organizers, also known by the more fashionable French term 'armoire', can come in a range of sizes, but most are large enough to have a full-length mirror on the front.
Pros:
Fits into any corner of your room
Easily portable
Large enough to hold most jewelry collections
The mirror is a bonus
Cons:
The size can be a disadvantage for small rooms
Can be heavy
Too much gravitas? (You know what we mean!)
7. Jewelry Box
Jewelry boxes are the oldest and most popular version of jewelry organizers! They come in all shapes and sizes with a variety of functions. You can choose a musical jewelry box if you are so inclined. You can decide on your style: antique, elaborate, modern, themed or just a simple box.
Pros:
Keeps your items moisture-free and safe
Internal lining protects items from dust and abrasion
Variety of sizes and styles on the market
Sits easily on any flat surface
Cons:
Depending on size, can be bulky
Often quite expensive
What to Consider Before You Buy
1. Capacity – How Much Jewelry Can the Organizer Hold?
Jewelry collections grow. They are dynamic, growing over time as you keep adding items to them. You may not even know how large your collection is until you take stock of all your pieces. Do this before you decide on the type of jewelry organizer you require.
Choose one that is sizeable enough to accommodate your collection. Also, consider the pace at which your collection is growing. You don't want to have to buy another organizer right away, so choose one that is sufficiently functional and spacious. Buying an organizer that comes with multiple sections and compartments will make it easy for you to categorize and safely store your valuables.
2. Your Collection – What Type of Jewelry Do You Have?
When taking stock of your collection, make a note of what type of jewelry you have. Are there lots of earrings of all shapes and sizes? Are you a lover of statement necklaces? Or is it rings that make up the bulk of your jewelry?
Identifying the type of jewelry you have will enable you to choose an organizer geared towards that particular type of jewelry. What use is there in buying a jewelry box with lots of ring slots if you don't wear rings?
3. Safety – Is Your Jewelry Protected?
A jewelry box not only organizes your jewelry, but it also keeps your items safe. The organizer should not be made of material that will scratch or damage your valuables.
Most jewelry organizers are inlaid with plush lining to keep jewelry moisture free and safe. A padded jewelry box gives that extra protection from damage.
The more affordable varieties of jewelry organizers come in plastic and fabric options. These may not provide the same level of protection as jewelry boxes but still offer more protection than some varieties such as open wall-mount jewelry organizers. These are more suited for costume jewelry and inexpensive items as they only display the jewelry but do not offer much in the way of protecting your items.
4. Price – How Much Does It Cost?
Spending more doesn't necessarily mean that you get a better product. You can find jewelry organizers to suit every budget as long as you check that the quality of the item is good.
Take a look at this gorgeous handcrafted replica of Highclere Castle, the castle featured in the acclaimed series Downtown Abbey. Would you guess that this is a jewelry box? It comes with a whopping price tag of over $85,000 but you do get a one-of-a-kind item!
Fear not! For under $50, you can buy an excellent jewelry organizer that will keep your items safe and look aesthetically pleasing as well. Buying a high quality item is always a good idea as you will be able to use it for a long time, however you can find jewelry organizers for under $15 if you are on a budget.
5. Aesthetics – Does It Look Good?
Beauty lies in the eyes of the beholder and this holds true for your jewelry organizer as well. Before you purchase, consider your style. Do you want something modern or vintage? Will it take pride of place in your room and be a talking point, or will it quietly hold your jewelry in your closet or behind the door? If the former, then take into account the general décor in your room. Consider practical factors such as space in your room. Choose an item that will complement your general décor and fit in with the size of your other furniture.
6. Material and Durability – Will It Hold Up?
Jewelry organizers come in a range of materials: plastic, fabric, wood, glass, polymer clay and enamel among others.
Needless to say, wooden jewelry boxes are the most popular. Not only are they sophisticated and stylish, but they also have that extra protection factor. A high-quality jewelry box made of well-treated wood keeps moisture from building up within the box, keeping your items dry and moisture-free. In addition, there is also some insulation for your items.
Glass jewelry boxes are a modern twist. They make it easy to see your jewelry items, but there is always the danger of the box breaking. Also, most glass jewelry boxes don't provide enough compartments to categorize your jewelry, resulting in softer jewelry items getting damaged and scratched by harder items.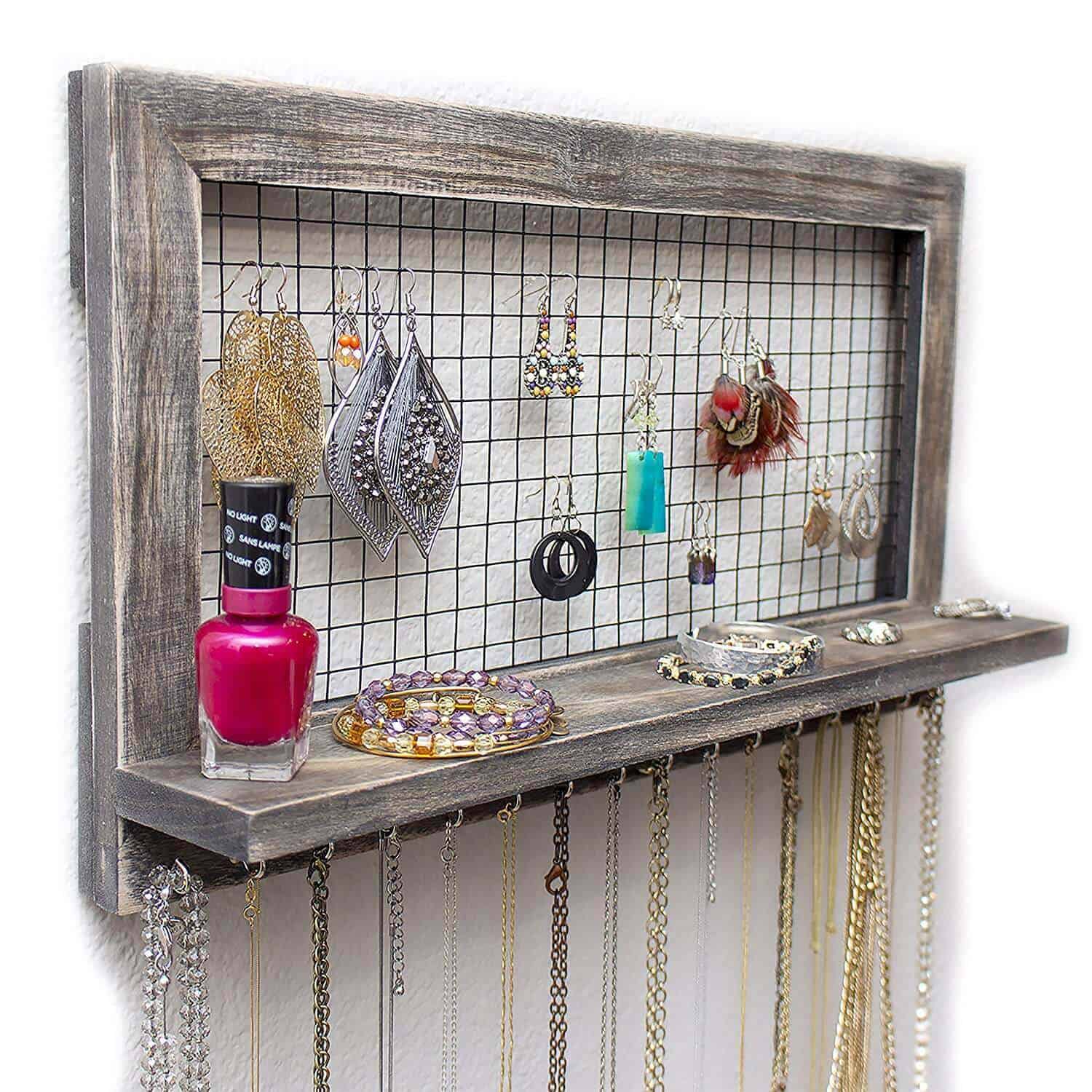 Clay jewelry boxes are pretty and delicate, often coming in smaller sizes. However, they can easily break if dropped and can damage your jewelry as a result.
An open wall-mount jewelry organizer provides you an interesting way to exhibit your jewelry and is easy for you to see all your items. This works like a shelf and is essentially a piece of furniture. These kinds of organizers will last a long time as they are made of wood.
Again, think about your collection and what works best for your items before you decide on the type of material for your organizer.
7. Security – Do You Need a Lock?
This entirely depends on the type of jewelry you own. If you mainly have costume jewelry that aren't very valuable, you may decide to store them in a less secure organizer. If, however, you own valuable items that you need to look after, buying a jewelry box with a lock is a good idea. It will keep your items away from prying hands and eyes. On the flip side, it will require you to unlock it every time you need to access your items.
Remember, however, that a locked jewelry box will not keep your collection safe from thieves. There is nothing stopping them from running off with your jewelry, so if this is a major concern, consider a safe instead.
Wrapping Up
As you can see, there are lots of options out there so finding one to suit your preferences will be easy. Consider your jewelry collection, purpose of the organizer, budget, and aesthetics to choose the perfect organizer for you.