As Jewelry Shopping Guide editors, we write about things that we love and we think you'll like too. We often have affiliate partnerships, and may generate some revenue from these links at no cost to you.
Tennis bracelets used to be called eternity bracelets or diamond line bracelets. Like eternity rings, they are made of gemstones, commonly diamonds, set close together to completely encircle the wrist. A tennis bracelet is a sleek, modern jewelry staple that adds sparkle and sophistication to your look.
But most people wonder why they're called tennis bracelets, when they don't seem to have anything to do with tennis.
While the tennis bracelet wasn't created specifically for tennis players, it was a particular game of tennis that helped to rename and rebrand this accessory.
How Tennis Bracelets Got Their Name
The style of tennis bracelets had been around for decades before the game, but Chris Evert took the bracelet to a new level of popularity. She was known for her style on the court and for being one of the champions of the game and at the height of her game, she was the number one player in the world.
The game that gave the tennis bracelet its name was held in 1987, during the US Championships. On the day, she was wearing a diamond eternity bracelet during the game.
However, during the game, the clasp of the bracelet broke and bracelet flew off her hand. Chris immediately asked for the match to be suspended as she looked for her bracelet. The incident drew public attention and since then, diamond line bracelets have been called tennis bracelets.
There is some debate over whether the name tennis bracelet predates this game.
According to some critics, the bracelet got its name simply because wearing diamonds while playing tennis was so unheard of, so that when Chris Evert began to wear her diamond bracelet the name tennis bracelet was given to the accessory. And considering how famous and well-known she was in the game of tennis, the name stuck. Some others say the actual game where Evert lost her diamonds occurred in 1978 and that the facts have since got mixed up.
Be that as it may, the fact remains that Evert losing her diamond bracelet during her game is what helped perpetuate the name of the tennis bracelet. However, who exactly coined the term tennis bracelet is unknown, lost to history.
Tennis Players and Tennis Bracelets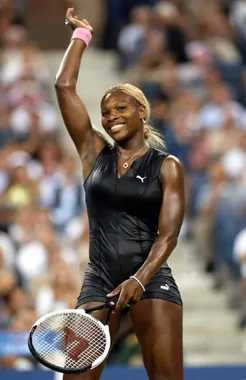 Many tennis players since Evert have sported tennis bracelets. Maria Sharapova and Serena Williams are some famous players that sport expensive tennis bracelets. In 2002, Williams wore a $29,000 Harry Winston tennis bracelet to a game, which turned heads.
Even today, many retailers report a spike in sales during Wimbledon, as the focus hits the sport and tennis bracelets come into the limelight.
A Wearable Bracelet
The design of the tennis bracelet makes it perfect for athletic women and those who lead active, busy lifestyles. Unlike other types bracelets, like bangles or charm bracelets, tennis bracelets are more comfortable, wearable and less intrusive.
They're light so you don't really feel them on your wrist and they're flexible, meaning that they don't get knocked around or hurt your wrist like a solid bangle would. This makes the tennis bracelet a comfortable choice if you want to look stylish while playing your game.
However, like Evert's bracelet, tennis bracelets can loosen and come off your wrist, especially if you're using your hands vigorously. The strength of the clasp is something to check for when purchasing your tennis bracelet to avoid a mishap and losing all your diamonds.
An Evolving Bracelet
While tennis bracelets initially referred to a string of diamonds, today they cover a multitude of gemstones. As colored gemstones become more popular, gemstone tennis bracelets continue to be a favorite of many fashion forward women.
Today, there are many designs that tennis bracelets come in. No longer are they limited to just a string of round cut diamonds. Instead, you can find different shapes, styles and designs.
Where to Buy Tennis Bracelets
Buying a tennis bracelet is a big purchase so ensure that your retailer has a proven track record and is trustworthy and reputable.
We recommend the following retailers:
James Allen has an impressive collection of high-quality diamond tennis bracelets on offer. Their site allows you to view each ring carefully from all angles using their ground-breaking Diamond Display Technology. They also have Diamond Experts on hand to help you through the process.
Blue Nile has an impressive range of tennis bracelets, which include designer bracelets, at competitive prices. They have some unique styles on offer so definitely check them out.
Brian Gavin's diamonds are famous for their cut quality and for their continuous innovation in perfecting their cut quality. Their range of tennis bracelets are stylish and expertly crafted.
Etsy is the place to go for unique tennis bracelet designs. Their range of gemstone tennis bracelets is unbeatable. Etsy's tennis bracelet collection features bracelets in a variety of settings, styles and prices.