As Jewelry Shopping Guide editors, we write about things that we love and we think you'll like too. We often have affiliate partnerships, and may generate some revenue from these links at no cost to you.
The tragus piercing is one of the most popular types of ear piercings. It's not an intimidating style and one that most people feel they can pull off. It can be downplayed with simple, minimalist jewelry or emphasized with dramatic designs.
In other words – it's a stylish, versatile piercing. But what type of jewelry should you choose for a tragus piercing, and is this the right type of piercing for you?
Let's take a look.
What is a Tragus Piercing?
The tragus piercing is located in the little outcrop of cartilage just above your ear canal. It's not in the ear, like the daith piercing for example, but just at the start of it, on the pointy bit that can be moved when you wiggle it with your fingers.
The tragus is a small location and often only one piece of jewelry can be worn on it. But some people have larger tragi and can have multiple piercings on the spot.
The tragus is quite versatile and looks great with simple studs or hoops. It can be a complicated piercing but it's worth the effort because it shows off the jewelry perfectly.
Best Jewelry for Tragus Piercing
The tragus gives you many jewelry options to decorate it and style it up. Here are some of the best tragus jewelry to adorn the piercing.
Tragus Piercing Studs
Studs are an excellent option for tragus piercings because they're comfortable to wear and can come in a variety of styles and sizes.
Most people opt for a minimalist metal ball stud, which perfectly complements any other piercings they may have. However, you can also add a touch of color by choosing gemstone studs.
The best style of studs for the tragus piercing is labret – a style that features a long post with a flat back plate. These tend to sit comfortably and not irritate the rest of the ear.
Tragus Piercing Hoops and Captive Beads
Hoops are excellent for cute tragus jewelry and cling snugly to the cartilage of your ear. The natural curves of your tragus perfectly suit the hoop style.
A simple, basic hoop is most people's go-to style for tragus piercing, but you can jazz it up with gemstones, crystals and more elaborate designs. Captive bead hoops feature a bead fixed in position on the hoop.
Hoops are easy to clean and don't tend to snag on objects, making them perfect for fresh piercings. They also move more comfortably, so you won't have as much pressure on your piercings as other types of tragus jewelry. Also, if you sleep on your side, you won't feel the hoop pushing into your skin like a stud could.
Tragus Piercing Barbells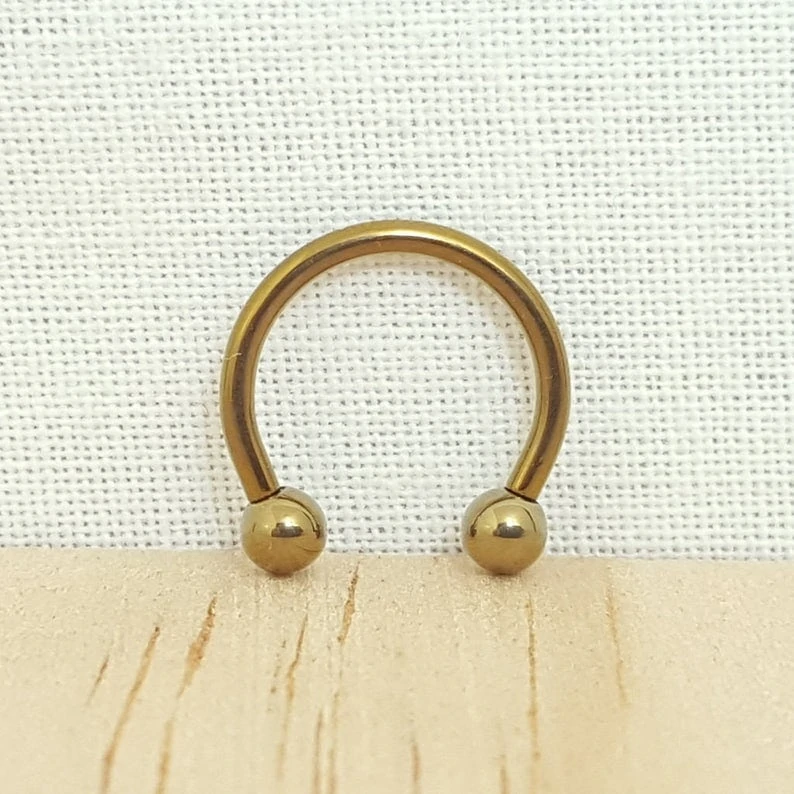 Barbells are another good option for tragus piercings because they can fit nicely around the outcropping of cartilage. Most barbells used for tragus piercings are internally threaded as they're much easier to put in and take out. While a barbell is not a common option for tragus, it is eye-catching when done right.
Unique Designs
The location of the tragus allows you to get creative with your bling. Because there's a large area of skin around the tragus and it's relatively flat, you could opt for larger, more eye-catching designs.
Tragus Piercing Jewelry Metals
As with any other body piercing jewelry, choosing the right metals is very important when picking your tragus jewelry. This will help you to avoid infections, allergies and unnecessary discomfort and pain.
The best options are hypoallergenic and bio-compatible metals that are suitable for sensitive skin. These include titanium, surgical grade stainless steel and higher karat gold. However, avoid any plated metals, sterling silver, plastic and nylon.
Read more about the best metals for piercings here.
Tragus Piercing Pain
The tragus is one of the more painful types of ear piercings because it deals with thicker cartilage. Feel your tragus and you'll notice that it's thick and hard – then imagine a needle having to go through that.
While it might not be as painful as it seems, tragus piercings do require pressure and takes time to complete. While some people find the tragus piercing very painful, others don't. Because pain is subjective, it's difficult to say what the experience will be like for someone.
Here's what some of our readers say about the tragus piercing:
Mandy: Based on my experience, I found it terribly painful, but it only lasted a few seconds. I was sore for a couple of days but then it seemed to heal really quickly.

Chiara: It really doesn't hurt all that much. It's just a sharp pinch and then its over. That's the worst done!
Tragus Piercing After Care
Tragus piercings can take between 3 to 6 months to completely heal and need to be looked after carefully during this period. Some people say they feel pain up to 8 months after, but as mentioned above, this is all subjective and differs from person to person.
The most important thing is to keep the piercing clean and follow the instructions given by your piercer to ensure that you avoid infections.
Avoid sleeping on your tragus piercing at least for the first month or two to avoid prolonging the healing process.
Can Tragus Piercing Help with Weight Loss?
There's a belief that tragus piercing helps with weight loss because it stimulates a pressure point that controls your appetite. (no scientific fact can back this up)
Those who've got tragus piercings say that it has helped them with curbing fat and losing some extra weight but note that this isn't some kind of magical process that works like waving a wand. You would still have to eat right and maintain a healthy lifestyle.
Where to Buy Tragus Jewelry
If you're buying tragus jewelry online, we recommend starting your search on Etsy and Amazon. There's a wide range of options and you'll surely be able to find what you're looking for.
If you are looking for a handmade or unique option, Etsy is probably the one place you shouldn't skip. You can find multiple independent jewelry boutiques on Etsy, each with their own assortment of tragus jewelry. Each Etsy shop has its own polices so it might take some time to review all their details ahead of making a purchase, but that's usually time well-spent.
As it is one of the biggest online retailers worldwide, it's not surprising that you can find all kinds of tragus jewelry on Amazon. Many different jewelry vendors offer their products via Amazon and you can use the site's extensive rating and review sections to gauge the quality of each product.