Just when you thought you'd seen everything a necklace has to offer, along comes the backdrop necklace. This trend adds a new dimension to the standard necklace and makes you see necklaces in a whole new light.
Why should a necklace only adorn the front of a person? Why not the back too? Backdrop necklaces makes the wearer look stunning, front and back. Let's take a look at backdrop necklaces and how to wear one.
What is a Backdrop Necklace?
Backdrop necklaces are simple and are crafted to create delicate strings of sparkling gemstones or beads that caress the body and accentuate the beauty of your figure. They are made to be eye-catching from both sides.
From the front, the backdrop necklace is designed to look like a regular necklace, but they have an additional dramatic extension that makes it equally eye-catching from the back. These necklaces come in many styles, including layered and choker styles.
Fashion is trending at the moment towards loose-fitting, flowing garments that often have open backs. The backdrop necklace is the perfect pairing with this style of clothing.
This is especially popular among modern brides who choose dresses with open backs. The elegance and opulence of these styles stems largely from their overstated simplicity.
But if you thought that backdrop necklaces are only for bridal dresses and formal events, think again. This accessory can pair beautifully with more casual clothing as well.
When Did Backdrop Necklaces Originate?
The 1920's saw new jewelry styles that were designed to dangle, swing and move freely while the wearer moved about. The backdrop necklace was born from this legacy.
Styled in the same manner that affords movement and freedom, the backdrop necklace embodies the rebellious charm of the flapper era reined in by a sense of refinement and elegance that is very contemporary.
There is a shadow of flapper sensibility behind the modern clothing styles and the backdrop necklace are the obvious companion for this styling.
While the origins of the backdrop necklace might have been with the bridal industry, the style has quickly caught on for regular wear and it is more and more common to see the backdrop style being work with cowl-neck shirts, open-back summer dresses and many other styles of non-bridal fashion.
Brides and Backdrop Necklaces
While backdrop necklaces may not be a mainstream type of jewelry, in the bridal world, they're pretty popular.
For a bride with a backless dress, wearing a backdrop necklace adds some sparkle to the back and makes the back look as beautiful as the front of the dress.
It fills up the empty space of the exposed back dress, adds movement and accentuates the figure of the bride.
Because of the bridal world's fixation with pearls, the pearl backdrop necklace is especially popular and truly brings alive not just the beauty of the bride but also of the entire ensemble.
How to Wear a Backdrop Necklace and Look Amazing
There are no 'rules' on how to wear a backdrop necklace but the following guidelines will be handy when trying on this new style:
You can style your backdrop necklace by layering it with different necklaces to give it a statement look.
The most common style is where the front extends like a regular necklace and the back combines to a single Y-shaped or straight-line fall of sparkly stones or high-quality chain. The clasp is typically at the center of the connection point in the back and the portion that is meant to dangle freely will be connected to one side of the clasp.
Once the necklace is clasped, you may arrange both sides so that the front and the back are both centered on your body. For backdrop necklaces that are quite long in the back, you may be able to simply slip the whole thing over your head without unclasping it.
You will want to be certain the front is arranged so that it is not sitting as high as a choker (unless it is styled that way) and that the back has not tangled with garments or with your hair.
Choker style backdrops are designed to be more minimal in front but are often quite dramatic in the back.
Backdrop Necklace and Hairstyles
It's a good idea to put your hair up if you're wearing a backdrop necklace so that the necklace isn't hidden by your hair.
Part of the beauty of the backdrop necklace is in how it slopes down from your shoulders towards your back. Having your hair down would hide this, taking away from the beauty of the piece.
A half-up half-down hairstyle could also work with the backdrop necklace, depending on how long your hair is.
If you feel like your hair is hiding the necklace, then its best to put it up, but if you can make your hair work with the necklace, then go for it.
Styles and Types of Backdrop Necklaces
Your backdrop necklace can be made in many styles and from many materials. There is something very modern about a backdrop necklace and yet this necklace style also pairs well with lace and other more traditional fabrics.
Because most backdrop necklaces are in the costume jewelry category, they'd typically be affordable and made of materials such as plated metals, vermeil, crystals and faux gemstones and pearls. If the piece is high-end fine jewelry, it might be made of silver, rose gold, or yellow gold and the choices for stones, pearls and other ornamentation are almost unlimited. Some styles even offer stones in the shape of flowers or leaves.
Here are some common backdrop necklace styles:
Often a backdrop necklace will be made of delicate chains punctuated by gemstones or pearls. The back may match the styling of the front or it may have added drama created by pendants and other additions.
A choker style backdrop will often be made from pearls or diamonds and be snug in the front. When the wearer turns around, however, a single fall of pearls, diamonds or even a locket-style piece will be revealed at the back of the necklace. This makes for quite a dramatic look.
If you like delicate, barely-there styling, many layered necklaces will have a few simple ropes or chains in front with delicate gemstones punctuating the chains here and there. The back of these necklaces will be equally delicate and simple.
Layered styles are perfect for those who are looking for something that will fill in the front of a boatneck or other off the shoulder shirt style. They tend to be less delicate and provide a little more coverage in the front and in the back.
Some backdrop necklaces only adorn the back. These are typically worn as wedding accessories and are attached to the sides or tops of the dresses. This style goes well with dangling earrings and fills up an open back.
When Should You Pick a Backdrop Necklace?
A backdrop necklace will always be most suited for a dress or clothing item that has an open back. The style of the backdrop necklace will depend partially on whether or not your dress or shirt is open all the way down your back, or if it is only open partway down.
If you have a shirt that is open in the back and you feel that there is something missing, the backdrop necklace is the perfect solution.
Simple dresses and those with vintage styling will often lend themselves to the backdrop style. Lace dressed also tend to pair well with the backdrop necklace. Additionally, many lace dresses will have a full coverage front with a dramatic open back, making them very well suited for a choker-style backdrop necklace in a vintage style.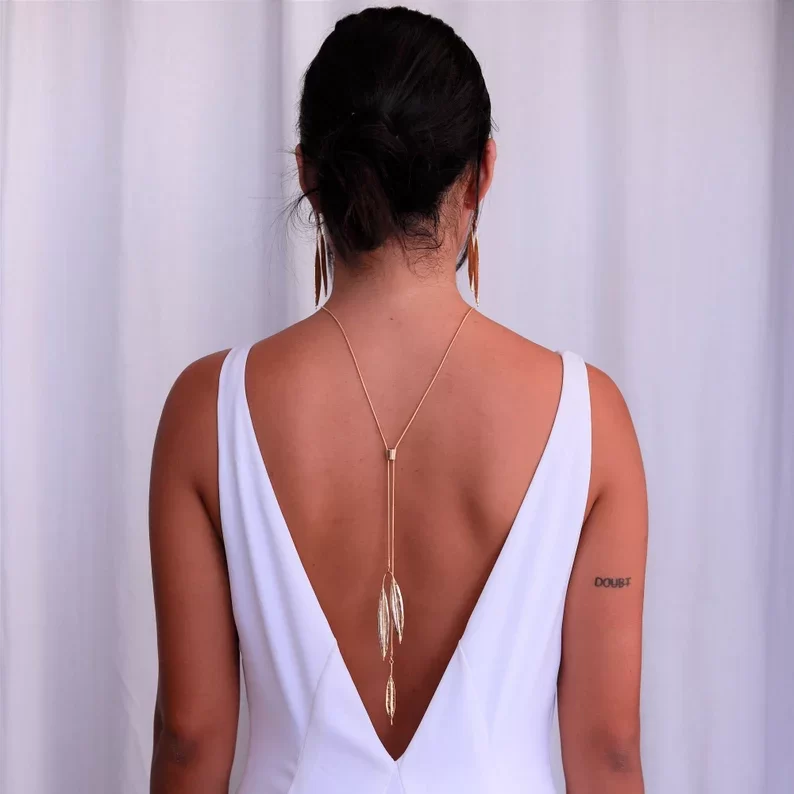 While a ballgown style dress may look good with a backdrop necklace, often slip-style, empire waisted or sheaf dresses are the styles that go best with this accessory.
The backdrop necklace is as flexible as it is beautiful and can be worn with a casual shirt just as easily as it can be worn with a fancy dress. They're the perfect crossover item that is beautiful and ornate enough for formal attire while also being delicate and sensible enough to match your favorite shirt and jeans.
Where to Buy Backdrop Necklaces
Because backdrop necklaces are not a mainstream type of jewelry, finding one at your local store might be difficult. Taking your search online will give you a lot more options.
The best place to start your search is on marketplaces, like Amazon or Etsy. Here you'll find a huge variety of designs, designers and prices for backdrop necklaces. Before you buy your backdrop necklace:
Consider the type of dress and the type of backline it has.
Check the measurements as you'd ideally want the necklace to fall to just the right length.
Buy the dress first rather than the necklace. It's easier to find a matching backdrop necklace to suit the dress than the other way round.
Check the after sales policies in case you have a change of mind and want to return the accessory.
Our recommendation? Begin your search on Etsy for a wide range of artisan backdrop necklaces at great prices.
Wrapping Up
The backdrop necklace is an amazing accessory and one that's sure to garner you compliments and second looks, all because it adds a twist to a time-honored piece of jewelry – the necklace.
Whether you go big with a statement piece or minimalist, with a delicate style, the backdrop necklace, if well chosen and styled, can be your focal piece of jewelry, even though its behind you.