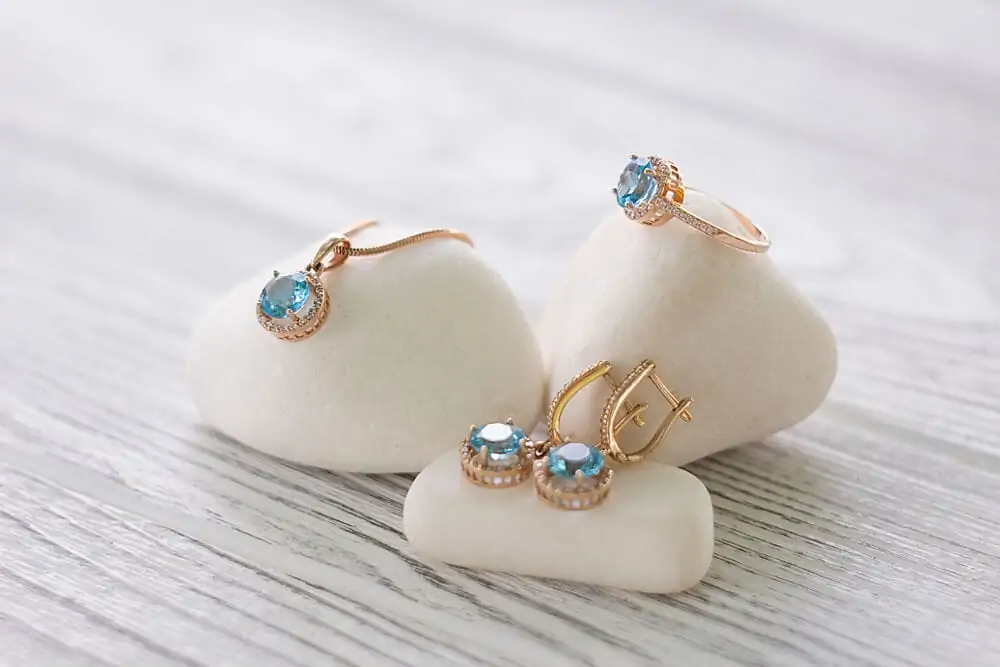 As Jewelry Shopping Guide editors, we write about things that we love and we think you'll like too. We often have affiliate partnerships, and may generate some revenue from these links at no cost to you.
An increasing number of people today are looking to shop for their jewelry online. Online shopping is convenient – large inventories to choose from, delivery right to your doorstep, and easy access to a range of vendors from the comfort of your home.
This is especially true for gemstone jewelry as finding a good physical store for quality gemstone jewelry can be difficult, as most stores may not carry the gemstone you're after, and if they do, the quality can be low and the quantity limited.
Online jewelry stores present a different problem, however – quality control.
How can you be certain that a particular online vendor is worth your time and money, and aren't going to offer you sub-par jewelry? Well, there are many factors to consider but to save you a bit of time, we thought we'd list our top 5 recommendations for the best places to buy gemstone jewelry online.
The characteristics we look for in great online jewelry stores
When we set out to rank the best online places for shopping for gemstone jewelry, we had to settle on several factors we'd use to judge them. We couldn't just pick the biggest brands, as that's not a useful metric.
Instead, we focused on the 3 things that make an online store great – large stock, diversity, and customer service, and the 3 things that are usually risk factors – quality, presentation, and shipping/return policies.
High quality. Regardless of where you choose to shop, quality is going to be a critical factor. Even if you're looking for affordable and everyday gemstone jewelry, the quality of the gemstones, the metals, design, and craftsmanship must still be top-notch. This is something that many online vendors don't focus on, as they rely on the customer being less capable of judging the quality of the jewelry piece through a computer screen.
Excellent presentation. You have to know what you're buying when you're looking for jewelry. This is especially true for online stores where you can't really look at the products personally. We made sure to only recommend online vendors that offer the best possible presentations – quality pictures and/or videos, detailed information, genuine reviews, and more.
Large quantities. One of the biggest advantages of online vendors is that they can offer truly impressive inventories, as they are not constrained by the physical parameters of a brick-and-mortar store.
Diversity of stock. Another huge benefit of good online stores is the diversity of stock they can offer. For an online vendor to grab our attention it would have to offer jewelry from many different niches and price ranges.
Great shipping and return policies. A must-have for a good online vendor is the ability to provide affordable (or even free) shipping as well as adequate return policies. This last part alone can make up for any issues with the quality or the poor presentation of the store's stock. Fortunately, many online jewelry vendors offer good return policies to their clients. We picked the vendors with the most reasonable and customer-friendly after-sales policies.
Great customer service. This is a topic of contention in the jewelry niche – many people love the personalized customer service offered by brick-and-mortar jewelry stores, while others prefer the convenience of online customer service. It's important for us that an online vendor offers the best possible customer service. Jewelry shopping is often a long and complicated process that may require consultations and discussions with the staff, so any online vendor worth recommending would have to offer excellent customer service.
With these factors in mind, we have settled on the following 5 online vendors (listed in no particular order) we'd recommend for gemstone jewelry ahead of all others.
Top Places to Buy Gemstone Jewelry Online
As an online platform that houses over 2.5 million sellers rather than just being a single seller itself, Etsy does offer a great diversity of quality. Simply put, many of the sellers that work through Etsy are of excellent quality, while others – not so much.
This means that you'll have to do a bit more research into every vendor you're considering buying from. That being said, Etsy's benefits far outweigh its drawbacks.
For one, Etsy offers a truly enormous assortment of gemstone jewelry pieces, much greater than anything else you'll find online. On Etsy, you can see everything from $2 citrine geodes to $60,000 emerald necklaces.
Because it's a whole digital marketplace in and of itself, Etsy tends to have a lot of very competitive prices. Most vendors' presentations have also been getting better and better in the last few years and it's not uncommon to find vendors who even offer certificates from reputable gemological institutes for their gemstones.
Again, you will have to research the trustworthiness and shipping/return policies of each vendor. However, with a bit of time, you're sure to discover a lot of fascinating gemstone jewelry.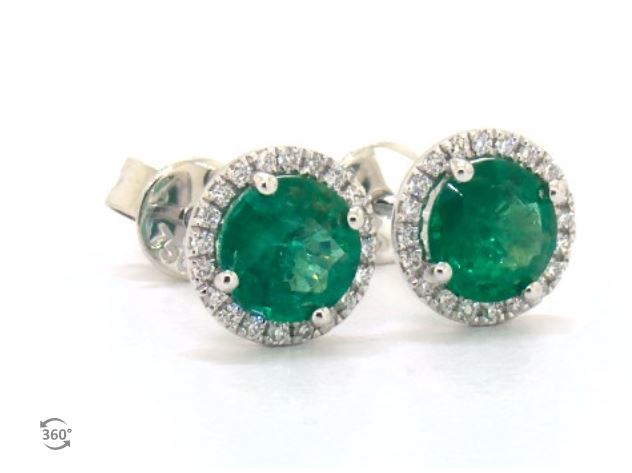 James Allen is one of the most recognizable names in the jewelry world and for a lot of good reasons. Starting their online vendor page in 2006, James Allen revolutionized the online retailer niche with their excellent jewelry presentations, high jewelry quality, and excellent customer service.
In a lot of ways, James Allen is one of the big reasons why online jewelry shopping is as trusted and popular as it is today. One of the biggest innovations this vendor introduced to the business is their ridiculously high image quality. This vendor brilliantly recognized that people will never fully trust online jewelry stores unless they can see what they are buying as well – and better – than they would've been able in a physical store. James Allen achieved exactly that with the detailed HD 3D imagery they offer for every diamond, gemstone, or jewelry piece on their website.
And that is quite an achievement, considering that James Allen also offers the largest inventory of diamonds in the world. Despite their focus on diamonds, they have quite an impressive collection of other gemstones and gemstone jewelry too. All that is available at more than fair prices too which is especially nice to see given the overall quality of the service.
3. Blue Nile
Established all the way back in 1999, Blue Nile is one of the first online jewelry vendors to establish themselves as a powerhouse in this niche. Blue Nile's creator, Mark Vadon, accomplished this by realizing the true potential of online retailers – instead of purchasing diamonds, gemstones, and jewelry from manufacturers and wholesalers to then sell them to their audience, Blue Nile would just list these items directly from the manufacturers and wholesalers without purchasing them until an order has been made.
This business model sounds simple from today's point of view, but it was revolutionized by Blue Nile and helped rocket them to the top of everyone's lists of online jewelry vendors. So, what benefits can Blue Nile offer you thanks to their business model?
Blue Nile has an excellent range of birthstone jewelry and fine gemstone jewelry. This retailer offers incredibly competitive prices compared to most other online vendors, often beating the competition by over 50% price difference. They also have excellent images and presentation for most of their stock and are known for their super-efficient fulfillment. Blue Nile are especially well renowned for their best-in-class customer service.
4. Brilliant Earth
Brilliant Earth is at the center of a lot of online discussions regarding the ethics of the diamond and jewelry industries. Brilliant Earth prides itself as a vendor of ethically sourced diamonds and gemstones, as well as recycled and eco-friendly jewelry metals.
The main reason many people call this into question is that how ethically sourced Brilliant Earth's stock depends mostly on the honesty of their suppliers, which Brilliant Earth can't really trace or verify 100%. Even with that being the case, however, Brilliant Earth is still doing more in that regard than most other online and brick-and-mortar vendors.
In terms of the other criteria we look for in an online jewelry vendor, Brilliant Earth is a solid choice in every regard. All the Brilliant Earth stock we've sampled was of very high quality and they do have vast and very diverse jewelry and gemstone catalogs. The customer service was also top-notch and the prices are quite competitive, although not quite on James Allen's or Blue Nile's level.
5. Angara
Angara offers a wide assortment of both diamond and gemstone jewelry, with most of it oriented toward women. The store's name literally translates as The Fire Within from Sanskrit, and the diamond and gemstone collections of this vendor live up to its name with the quality brilliance and fire they offer. One unique selling point that Angara offers is the ability to choose your gemstone quality – from good to heirloom quality.
The company is based in Los Angeles but also has websites in Australia, the UK, and Canada. Angara has partnerships with renowned brands such as Natori and Harvard University, but the company itself is vertically integrated. This means that the company does everything from stone cutting, through design, manufacturing, and quality control, all the way to marketing and order fulfilment.
And the end results are impressive – Angara offers high-quality diamond and gemstone jewelry, a great diversity of stone settings and designs, competitive prices thanks to the company's vertical integration (up to 30-40% less than the competition!), risk-free shipping and lifetime warranty policies, free customer engravings, and more. The only drawback of this vendor is the fact that men's jewelry is limited to wedding bands only.