As Jewelry Shopping Guide editors, we write about things that we love and we think you'll like too. We often have affiliate partnerships, and may generate some revenue from these links at no cost to you.
The conch piercing (pronounced 'konk') is named after the conch shell to which the ears have a slight resemblance. It's one of the most customizable body piercings and if you're after creating a trendy, cool, and stylish image, then this piercing fits the bill.
But how do you know if this is the right piercing for you?
We've got you covered! Here is everything you need to know about conch piercings to help you decide if this is the right piercing for you.
What is a Conch Piercing?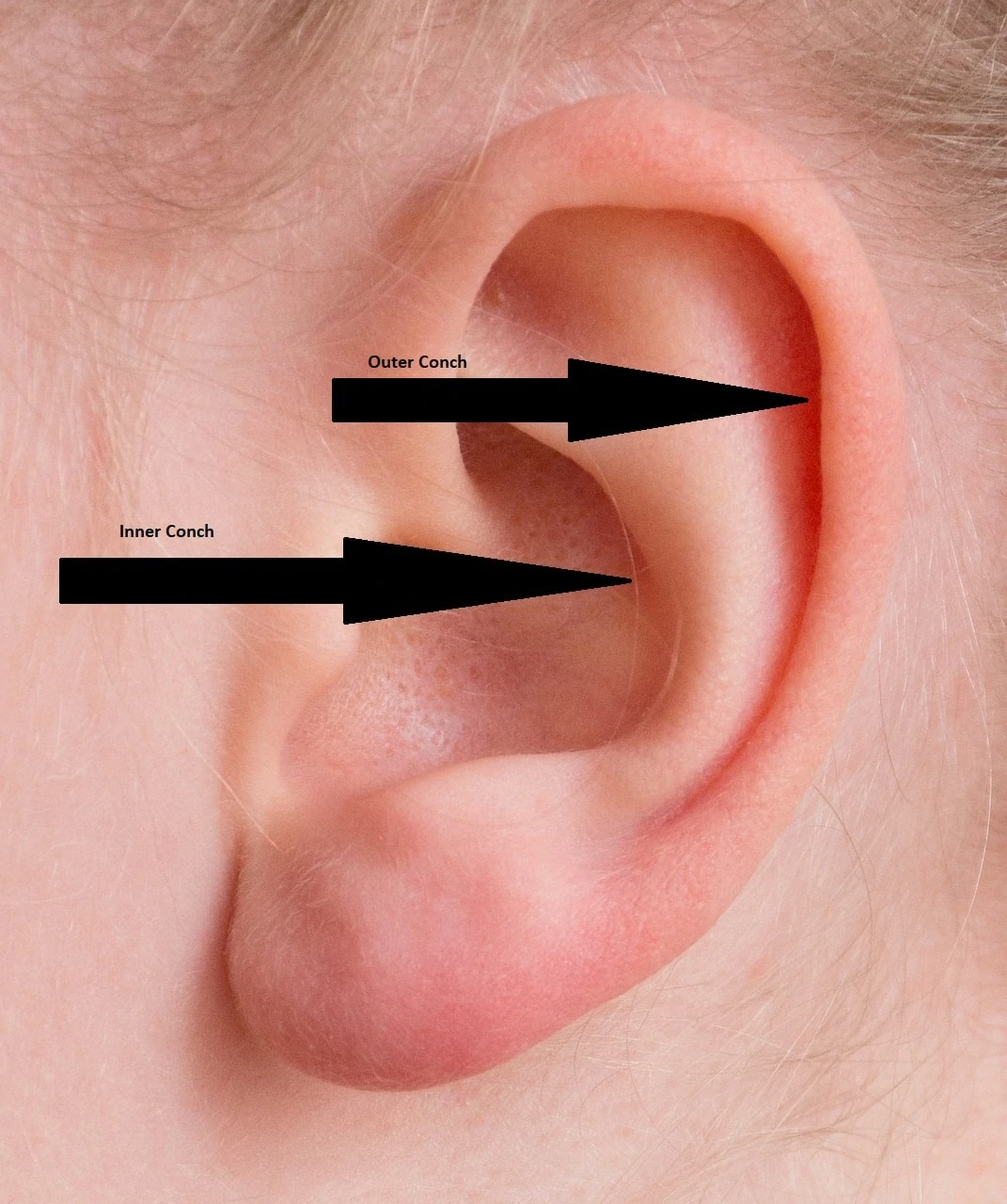 When it comes to conch piercings, you can choose one of the two variations: the inner conch piercing or the outer conch piercing.
The outer conch piercing is located in the upper part of the cartilage and is commonly decorated with a hoop around the ear ridge facing outward. It's in a more visible location and attracts the eye immediately.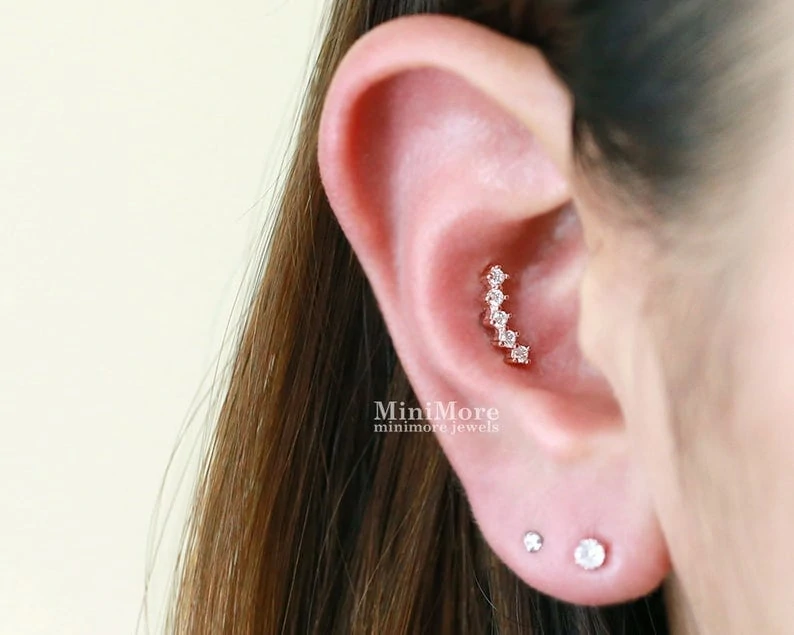 The inner conch piercing is in the lower cartilage and is usually adorned with shiny cartilage studs. Here, the perforation goes directly through the ridge of the ear and is hidden within the inner curve of the ear.
Best Jewelry for Conch Piercing
There are several conch jewelry options that you can choose from to adorn your piercing. If you're more on the traditional side, there's jewelry for that but if you prefer something funky and modern, there's a piece for that too. Let's have a look at the best conch jewelry options that you can go for.
1. Conch Studs
Conch studs make excellent adornments for both the inner and outer conch piercings, with the labret stud (flat-backed studs) being the most popular option as it's beautiful and comfortable at the same time. Both the outer and inner conch can sport flat back studs. For inner conch piercings, consider curved embellished studs to trace the natural curve of the ear.
You can choose the style of jewelry according to the size of your piercing, but smaller and daintier pieces of jewelry are among the most popular.
2. Circular, Curved, and Straight Barbells
If you want to go for something a little less traditional, you can always opt for circular, curved, or straight barbells.
Circular barbells tend to feel like hoops and are quite comfortable to wear. They're also easy to clean and maintain because of the openings on either end. Curved barbells are also a good choice although not as defined. The straight barbell is very similar to a stud, except that the backing also has a rounded ball.
When choosing a straight barbell for your conch piercing, make sure you consider the length of the barbell. The longer it is, the more uncomfortable it could be especially during the night as you sleep.
3. Captive Bead Rings
Captive bead rings are hoops that feature a single, unattached bead that is held in place by tension from either side of the ring. The bead is removable, and it can be inserted by releasing tension on the bead. These are a popular choice for conch piercings as they look great and are comfortable to wear.
4. Clicker Rings
Clicker rings are easy to differentiate from other ring types because of their hinged clasp which snaps into place between two tines, securing the ring in place. They have either a straight or a curved post and the shape fits perfectly with all kinds of piercings. These are incredibly convenient as they make changing your jewelry so much easier. There are also numerous unique styles and designs for you to choose from.
Conch Jewelry Metals
Your initial piercing jewelry should be made of a suitable material that would not cause any complications in the healing progress. The most commonly used materials are surgical steel and titanium since these materials are hypoallergic, a.k.a. bio-compatible. However, solid gold, platinum, niobium, and certain types of plastic are also great options.
Although many people prefer to have ear-piercing jewelry made out of glass, we do not recommend it since glass can shatter and cause serious injury. We also suggest staying clear of plastic jewelry since certain types of plastic can cause allergies in some people.
Conch Piercing Pain – Can I Handle It?
It's difficult to say exactly how much pain you would feel during this procedure since pain is subjective and depends on the individual. However, conch piercing is said to be one of the most painful types of ear piercing.
Everyone's pain threshold is different and while it may hurt for some people, someone else might barely feel a sting. Since the ear cartilage is quite thick, getting the needle through it will take slightly longer which can result in more pain.
Here are what two of our readers have told us:
"Honestly, everyone says the conch piercing hurts but for me it hurt about as much as my nostril piercing – very little. There was a little bit of blood afterwards and a sharp pinch during the procedure. That was it. Healing was so easy because it was kind of tucked away and safe."
"I got a conch piercing done and it was officially the worst one I got. It depends on how thick your conch is. Mine was pretty thick so it did hurt a lot. The procedure itself didn't hurt all that much. I felt a really sharp sting and then it was over. But it was afterwards that it really began to hurt and the pain hung around for a long time."
Your overall health and mood can affect the level of pain that you feel so keeping a positive attitude and preparing yourself mentally beforehand will help you to cope.
Some recipients of conch piercings state that they felt hardly any pain while getting the piercing so once again, whether you feel pain or not from your conch piercing is subjective and depends on your pain tolerance.
Conch Piercing AfterCare
Conch ear piercings can take quite a long time to heal completely anywhere between 6 to 10 months, depending on how well you follow the rules of aftercare. No matter how tempting it may be, do not change the jewelry until the primary healing is complete. This can take up to 6 months. Avoid touching or pulling the jewelry as this can cause infections. Keep the piercing dry and clean the wound at least two times per day. As always, follow the instructions your piercer gives you as this will help the piercing to heal as quickly as possible.
Where to Buy Conch Jewelry
If you're planning to buy conch jewelry online, we suggest that you start your search on Amazon and Etsy. With the countless designs and prices available, you're sure to find your favorite conch jewelry right here. Also, many of the top piercing jewelry retailers offer their products via these platforms, making it easy for you to compare prices and quality on the same platform while making use of perks that come with loyalty programs like Amazon Prime.
Etsy is the perfect place to shop for conch jewelry pieces if you're searching for a unique or handmade design. There are many independent jewelry boutiques available on Etsy and each one has its own assortment of conch jewelry.
Amazon
Amazon is one of the biggest online retailers in the world so you are likely to find all kinds of designs and styles of conch jewelry right here. There are multiple diverse jewelry vendors who offer their products on Amazon and you can use the site's own rating and review sections in order to determine the quality of each product. We are quite certain that you'll be able to find some amazing conch pieces here.
Now that you have all the information you need about conch piercings, it's time for you to get a whole new look!