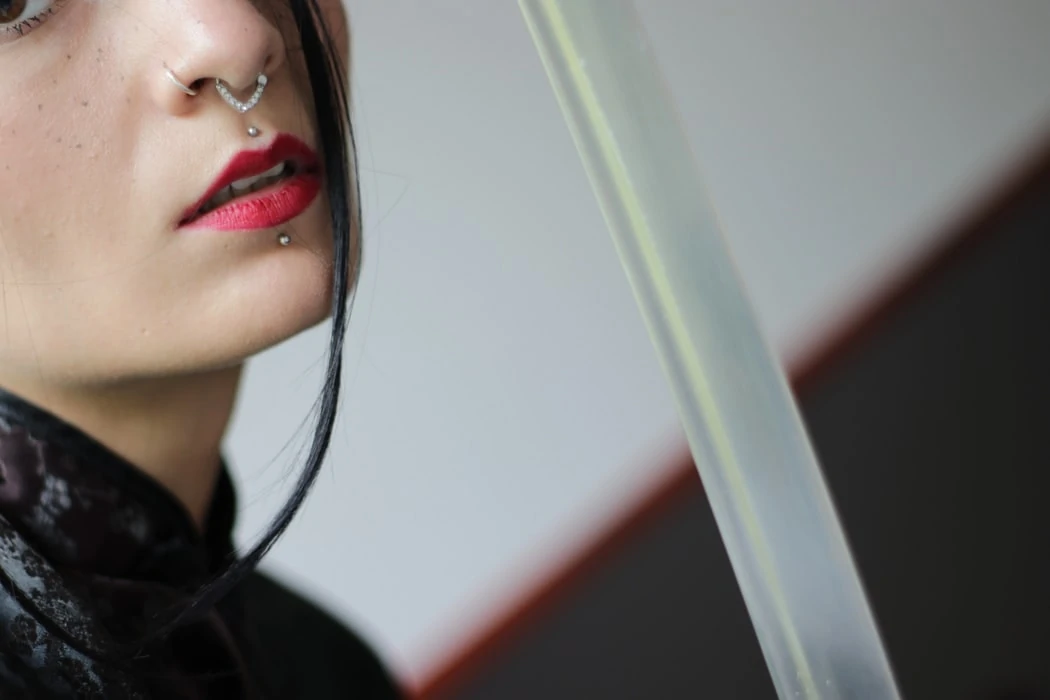 Lip rings, once a symbol of subculture, have now emerged as a mainstream fashion accessory, captivating those who dare to make a bold statement. These small yet impactful pieces of jewelry offer a unique way to express individuality and personal style. From minimalist studs to ornate hoops, lip rings come in various designs, catering to diverse aesthetic preferences.
Let's explore the world of lip rings, exploring their evolution, styles, and how they've become a symbol of self-expression in contemporary fashion.
Are Lip Piercings Risky?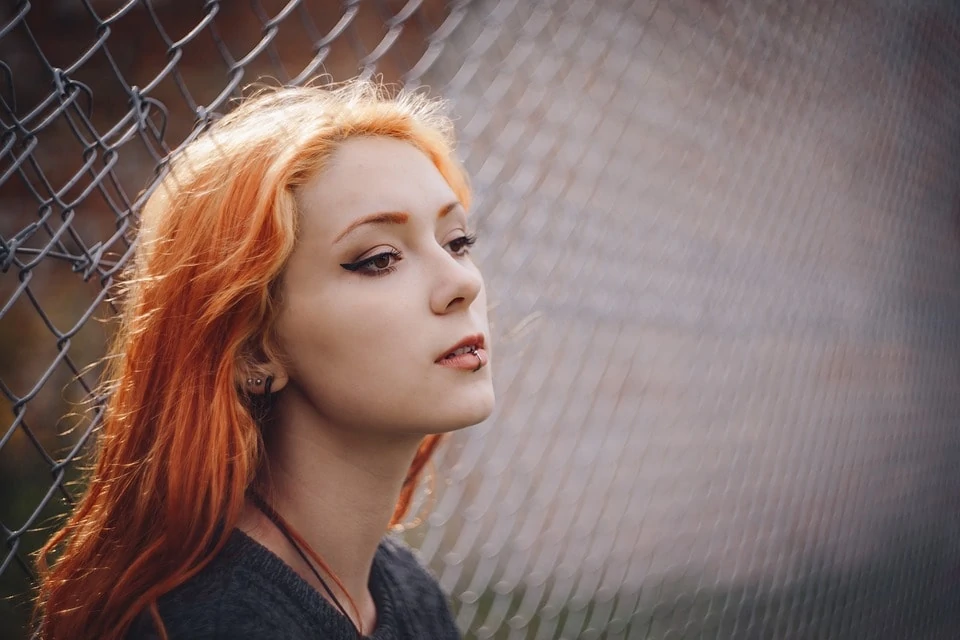 Lip piercings are no riskier than any other piercing. You should thoroughly research your potential piercer to ensure you are happy with the type of work they do and the way they run their parlor.
Ask all the necessary questions regarding sanitation (and pay close attention during your appointment) and ask any questions you have about your actual lip piercing. You should feel comfortable enough with your piercer to ask questions and express your concerns or nerves – after all, it is a scary process! The last thing you want is to find yourself in an uncomfortable situation on the day.
Risk in terms of infection is a little different for a lip piercing. Your mouth is a hotbed for bacteria, which puts lip rings at the high-risk end of the infection spectrum. Lip rings can also be infected from both the inside of your mouth and on the outside from your skin – but if you take proper care of your piercing, then chances are that it will heal without any issues.
Types of Lip Rings & Jewelry
Lip jewelry is specialized to the mouth area as the jewelry will come into close contact with sensitive areas such as gums, lips, and teeth. Stud or posts designed for lip piercings are typically labret studs and have a flat back on one end and a threaded accessory (usually a ball, stone or charm) on the other. Labret studs also exist for nose and ear piercings.
Another specialty piece is a curved barbell stud designed for piercings that expose both ends of the jewel. Both ends will have a design feature, one of which will thread. The post is curved to allow it to pass through the angled piercing.
Hoop rings designed for the lip are usually segment rings. Segment rings open by the removal of an entire segment of the hoop. This means that the hoop is seamless when worn for added comfort and minimal risk of infection.
Horseshoe lip rings are a cross between a hoop ring and a curved barbell. They are shaped like a hoop but with a gap in the middle. Both ends are finished with a ball or stone with one threaded like a barbell stud.
Types of Lip Piercings and the Best Jewelry for Them
There are many types of lip piercings, that going through all of them here would take too long. Check out our article detailing the top 14 lip piercing types for comprehensive information. Basically, lip piercings involve either single, double or quadruple perforations.
Here's a quick look at the most popular types of lip piercings.
1. Labret
A bottom lip piercing that threads through the lip to the inside of the mouth. Labret piercings can be centered or off-center. Labrets are most commonly worn with a simple ball or stone stud, but hoops can also be worn in a Labret piercing.
If you want to keep your look subtle, look for dainty studs or thin hoops that are barely visible. If you want to make a stronger statement look for thick colored hoops or larger studs.
2. Medusa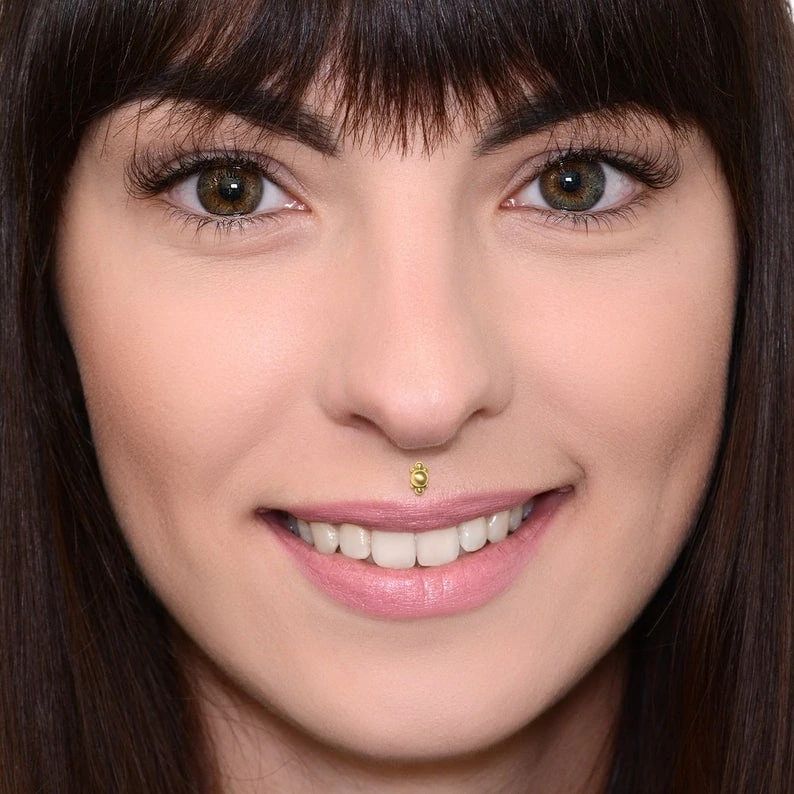 A Medusa piercing is located at your cupids bow on top of your upper lip and exits inside the mouth. For an elegant look, look for a small refined Labret Stud that showcases a stone. Those wanting something unique can look for playful studs in boho patterns or fun shapes.
3. Madonna and Monroe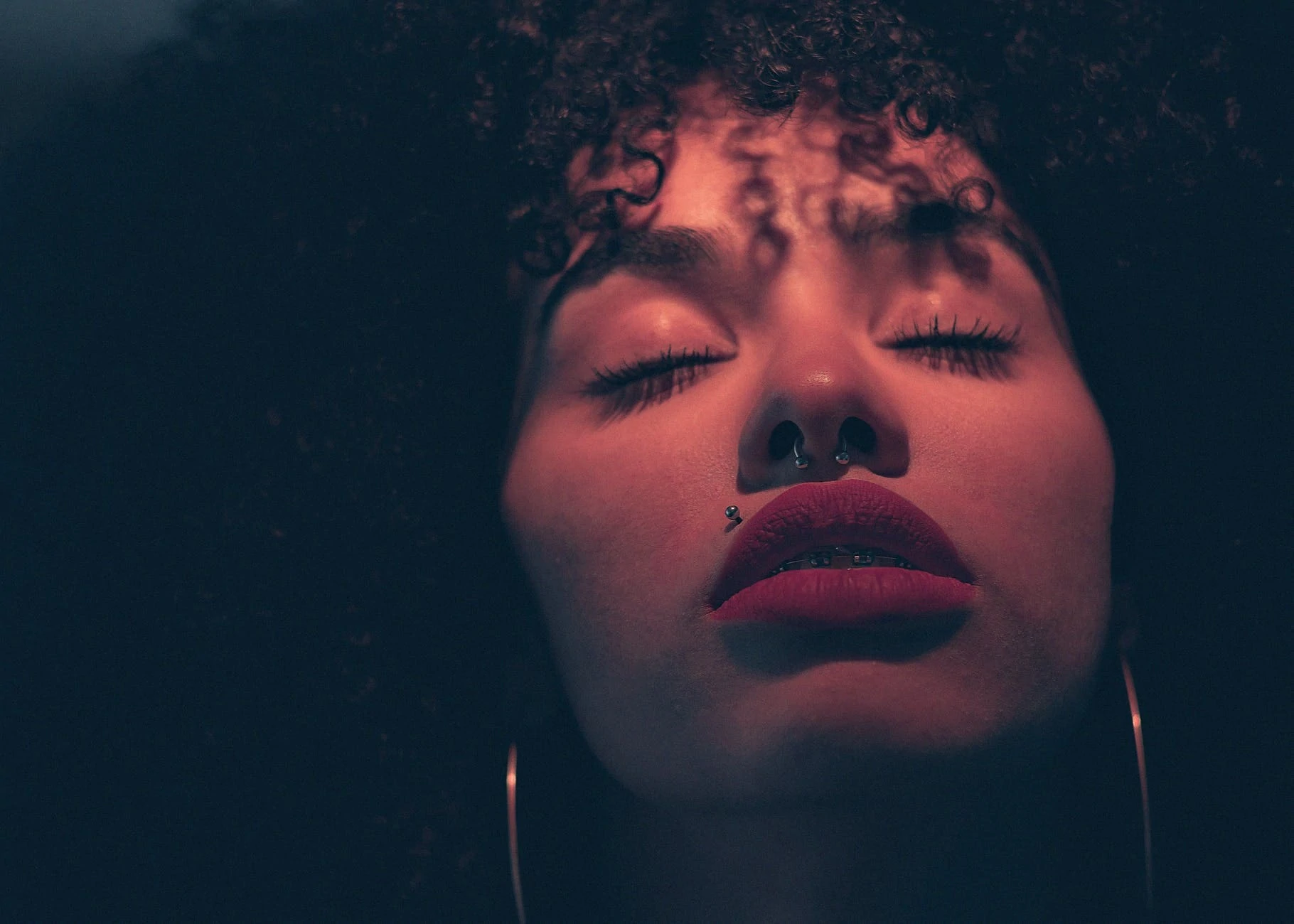 The Madonna piercing is located above the right side of your upper lip to mimic the Material Girl's famous beauty mark. Similarly, a Monroe piercing is placed above the upper lip on the left to mimic Marilyn's beauty mark.
These piercings are quite feminine. Simple stone stud designs will give you a demure look, but to add some personality you can choose from a variety of creative labret stud designs to suit your style.
4. Vertical Labret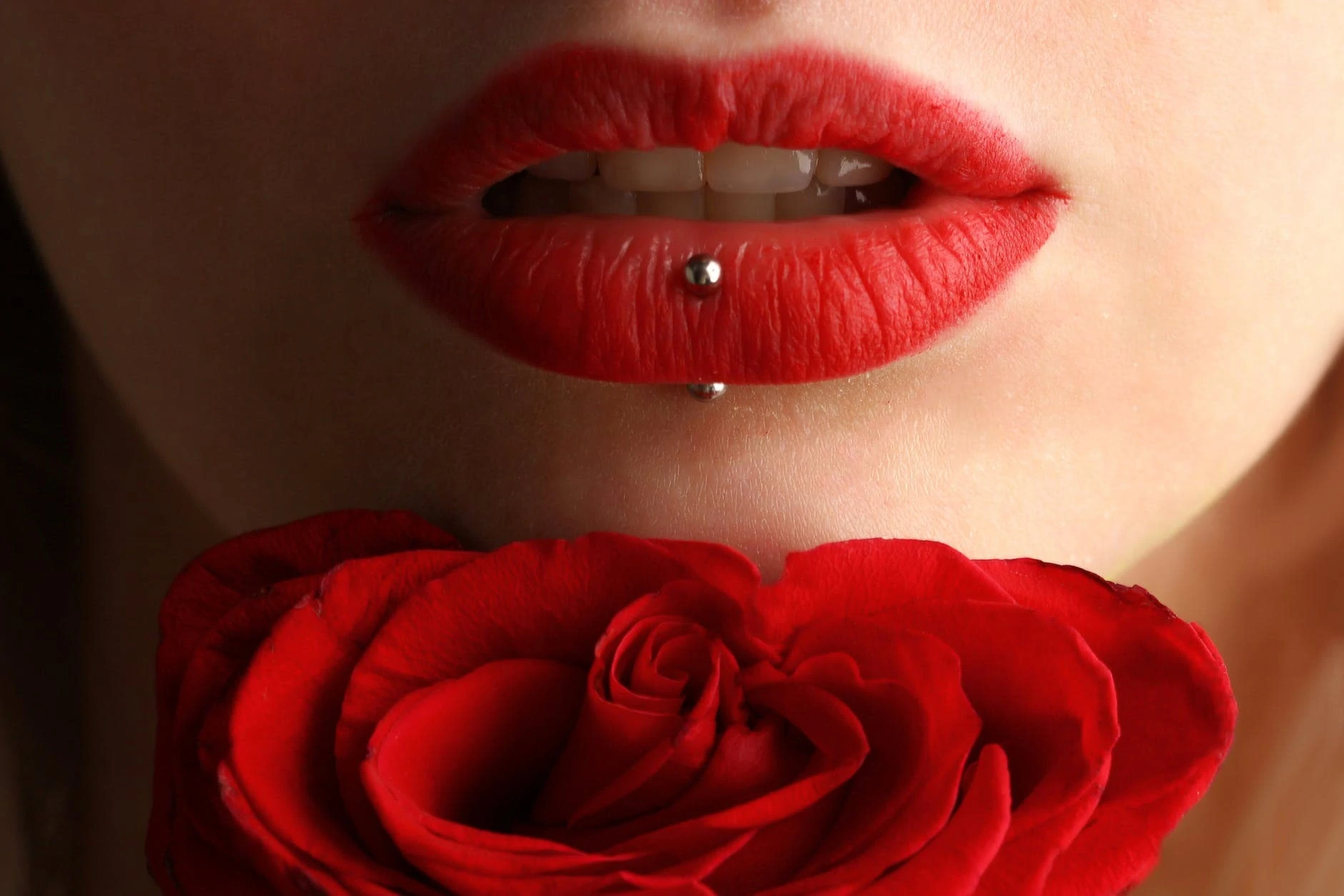 A bottom lip piercing like the Labret, but with visible ends. So, instead of the earring back on the inside of the mouth, it is in the middle or top of the bottom lip. Those looking for a little bit of fun can look for a curved barbell with a ball or stone on the lip end and small dangling charm on the other. Or, keep it simple and ladylike by choosing a simple diamond or pearl jewel.
5. Jestrum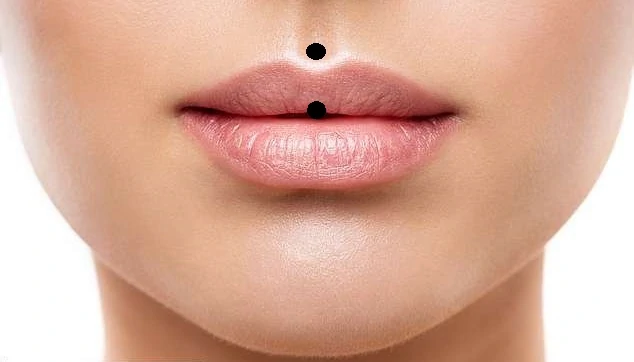 A Jestrum piercing is much like a Vertical Labret but is placed on your upper lip. The piercing enters just above your Cupid's Bow and exits at the center of your top lip exposing both ends of the jewel. Look for barbell studs that allow you to showcase both ends of your piercing.
Mix it up by choosing a design that has different stones on each end or keep it simple with simple metal fixtures at each end.
6. Shark Bites
Shark bites is a more out-there type of lip piercing, involving 4 separate perforations, two each on either end of the lower lip. This type of piercing is sexy and bad-ass in its overall style. Labret studs and even hoops, or a combination of both, work perfectly for the shark bite piercing.
What to Consider When Choosing Placement
Style and look should definitely be the primary drivers of your placement decision. The most subtle piercings are single perforation piercings like Madonna, Monroe, Medusa, and Labret piercings – particularly if your chosen jewel is small and simple. Labret and Medusa piercings worn with a hoop are more visible but can be more minimal if your chosen hoops are very fine.
Piercings that have two or more perforations are more noticeable and make a statement. These expose both ends of the jewelry like the jestrum or vertical labret, or feature clustered jewelry like shark bites or canine bites.
Choose your piercing location, depending on the image and overall look you're trying to achieve.
How Long Does a Lip Piercing Take to Heal?
There is no hard and fast rule for the time it takes for a lip ring to heal. After all, everyone is different. Generally, a lip piercing will take somewhere between three to six months to completely heal.
You'll have to try and resist the urge to swap jewelry out during this time as this can irritate the piercing and delay the healing process – or worse – it can cause an infection. Remember, your piercing is essentially a wound with a foreign body (jewelry) in it, so you have to give your body enough time to heal and give your immune system a chance to deal with the new material.
Until it has completely healed, you should do your best to keep the piercing clean inside and out. Be diligent with dental hygiene including the use of mouthwash, especially after meals and wash the outside of your piercing with soap and water.
It's best to discuss your healing plan and progress with your piercer. If you're committed to the healing process, you can move onto the fun decisions – placement and jewel types!
For Those That Aren't Quite Ready…
If you aren't ready to commit to a lip piercing, try a faux lip ring instead. Faux lip hoops are available from many online sellers and are a great way to try the lip ring look on without getting a piercing. They grip your lip like an earring cuff and can be used to try on most lip piercings.
They will also allow you to play with placement and get a feel for what it's like to wear something on your lip. Magnetic faux Labret studs are also available for you to try the look and feel of lip studs.
Where to Shop for Lip Rings
You can find lip rings at your local piercing studio, but you can also take your search online. Two of the most popular platforms for piercing jewelry include Etsy and Amazon.
Etsy stands out for its unique, handmade, and custom lip rings. It's perfect for finding one-of-a-kind or personalized pieces. Independent artists and jewelers on Etsy offer a variety of styles, materials, and designs. The platform lets you directly interact with creators for custom designs.
Amazon, in contrast, provides a wide selection of lip rings from different brands and sellers, making it a convenient all-in-one destination. Known for its broad range, competitive prices, and quick shipping, Amazon is great for an easy shopping experience. It offers everything from simple, affordable lip rings to more high-end choices.
Wrapping Up
Lip rings go beyond fashion; they express who you are. And the best part is, there's a lip ring for every style. Show off your unique personality and let your lip ring speak for you.